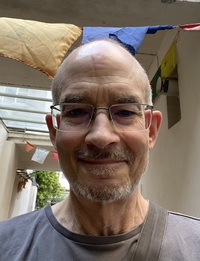 David Schneider
David Schneider spent 13 years at the San Francisco Zen Center before discovering Shambhala and went through various ordinations in the Zen tradition. He was an acharya (senior teacher) in Shambhala for many years and has taught both Buddhist programs and retreats and Shambhala teachings at all levels. He has given Refuge & Bodhisattva Vows, and led Vajra Assembly study programs; directed all levels of Shambhala Training, up to and including Warriors Assembly. David is empowered to teach all five of the Dharma Art / Shambhala Art levels and has developed his own programs in the field of Dharma Art.
David's Courses
Buddhas Leben - Sommer- Klausur und Zeremonie der Zufluchtsnahme (offen für alle)
No Prerequisites
Buddhas Leben - mit Zeremonie der Zufluchtnahme +++ Buddhas Life - and Refuge cermony (Englisch Version of the text below)
No Prerequisites
Zufluchtszeremonie zum Buddha als Vorbild, zu den Dharmas als dem Pfad, zum Sangha als Gesellschaft. Alle, die sich dazu inspiriert fühlen, können an der Zeremonie teilnehmen | Refuge ceremony for everyone who feels inspired.
No Prerequisites
2023-06-02 01:22:36