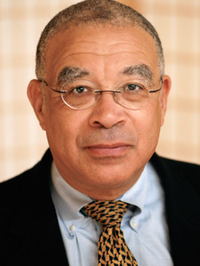 Gaylon Ferguson
Gaylon Ferguson, PhD, has led group meditation retreats since 1976. He taught at Stanford, the University of Washington, and Naropa University, where he was a Core Faculty Member for fifteen years. The author of two books, Natural Wakefulness (on the four foundations of mindfulness) and Natural Bravery (on fear and fearlessness as path to manifesting bravery), his articles have appeared in Lion's Roar, Tricycle, and Buddhadharma magazine. He contributed the foreword to the pioneering collection Black and Buddhist: What Buddhism Can Teach Us About Race, Resilience, Transformation and Freedom (Shambhala, 2020).
Gaylon's Courses
What does it mean to practice a path of freedom today? Are we slowly unraveling our habitual, ego-centered views that obscure reality, or simply and immediately recognizing the wakefulness that already exists?
No Prerequisites
Profound, potent, and intimate, this course includes videos of Chögyam Trungpa Rinpoche teaching that provide a rare glimpse of the early days of Buddhism in the West. The Tibetan Buddhist Path was the first seminar given by Chögyam Trungpa Rinpoche.
No Prerequisites
Learning to work with our anxiety, we are not blocked by fear. Through an exploration of the Buddhist teachings of mind and the nature of reality, we learn to see clearly.
Learn or refresh your connection to the practice of meditation as taught by Chögyam Trungpa Rinpoche, based on archival talks in the summer of 1974 to an audience of new students.
No Prerequisites
2023-06-02 01:20:55