Teacher:
Rebecca McAllister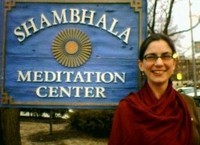 Rebecca McAllister
No Biography yet
Rebecca's Courses
This course provides introductory tools and teachings for working with meditation in daily life. These classes are perfect for beginners and those relatively new to meditation or for those wanting to have a fresh start.
No Prerequisites
All are welcome as we continue to focus on the fundamentals of meditation, mindfulness and fundamental Buddhist teachings and their application to bring contentment into our everyday lives.
No Prerequisites
Join us in exploring Buddhist Mahayana practices which can help us discover the true joy of life that we can find in our own life is actually about others.
No Prerequisites
2023-10-02 15:06:21