The Future is Open
October 14 @ 7:00 pm

-

November 11 @ 8:30 pm

America/New_York

USD 85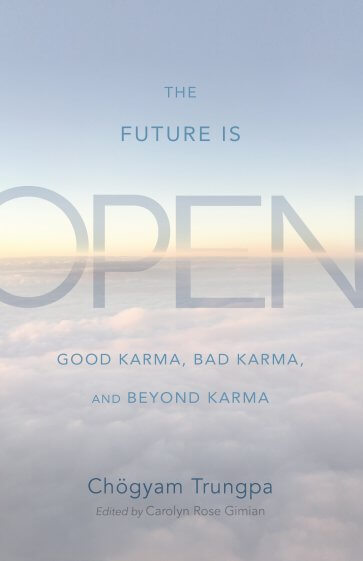 with Travis DeTour & Judy Vreeland
Contact person: Paul Belserene
Karma has become a popular term in western culture but it is often misunderstood and over-simplified. In The Future Is Open, Chӧgyam Trungpa offers rich and profound teachings on the true meaning of karma and how it can offer a path to awakening through the practice of meditation.
In this class we will use readings and discussion to deepen our understanding of karma and how we can work with it in our everyday experience. As Chӧgyam Trungpa states in the opening, "Karma is like a game of chess. Wherever you are on the board at this moment is the result of your past action….But at the same time, the present is also influenced by the future, which is open space and freedom."
Ultimately, Chӧgyam Trungpa held a view of karma that presented us with good news. He offers a way to understand our current situation, and shows us that liberation is possible because the future is never predetermined.
The class is open to practitioners at all levels who are interested in reading and discussing this very powerful text.
Schedule: Thursdays, 7-8:30pm Eastern Time
Thu October 14th: 7:00 PM – 8:30 PM
Thu October 21st: 7:00 PM – 8:30 PM
Thu October 28th: 7:00 PM – 8:30 PM
Thu November 4th: 7:00 PM – 8:30 PM
Thu November 11th: 7:00 PM – 8:30 PM
---
Judy Vreeland has had a sitting practice since 1994 and became a member of the Boston Shambhala Center in 2006. She is a vajrayana practitioner and a member of the center's board of directors. She is also part of the leadership team working to address racism within our community and beyond.
Other cost options (see details on registration page)
USD 55