Friday Night Talk – Meditation in Action – Now: Crossing from the Left to the Right Side of our Road
November 5 @ 7:00 pm

-

8:30 pm

America/New_York

USD 35.00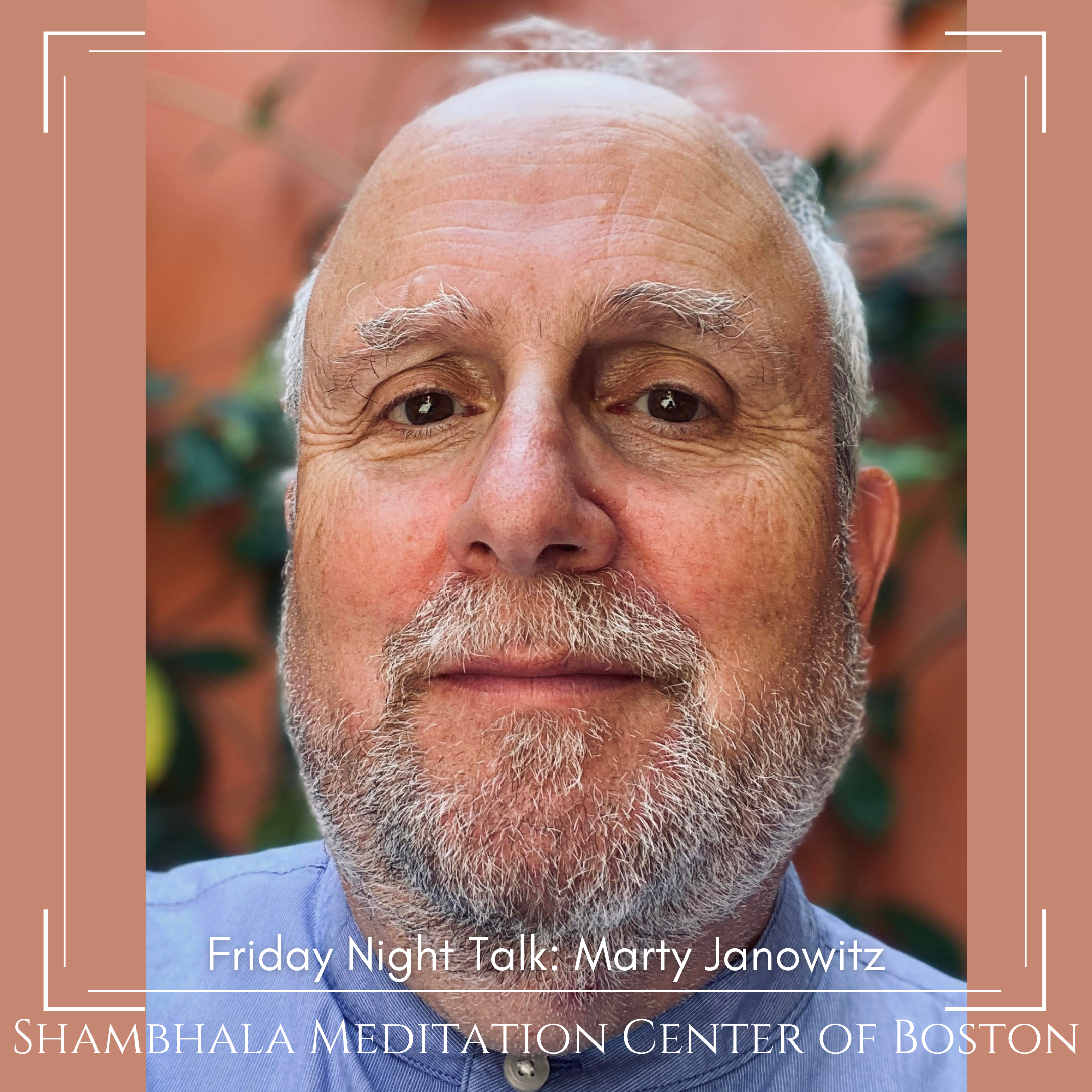 with Martin Janowitz
Contact person: Dennis Engel
Friday Night Talks begin at 7 pm Eastern, 8 Atlantic, 5 Mountain, 4 Pacific time.
The teachings expounded by Chögyam Trungpa Rinpoche went far beyond disciplines and practices for realizing our inner awareness, well-being or, conceivably, wisdom. In the face of our challenging lives, relationships and local to global suffering, Rinpoche pointed students towards a vision and commitment that was simultaneously bigger and smaller – to engage and bring courage and kindness in benefit to others and all of us, by manifesting what in various contexts he described as meditation in action, embodied compassion, or warriorship.
On a grand scale he pointed to the possibility of enlightened societies, but on a granular level he rooted such possibility in an accessible spark of wisdom within each poured cup, each moment of interaction, and each breath of every day.
The challenge I have wrestled with now for too many years, is about how not to wait for awareness and wisdom, much less enlightenment to appear as an 'outcome' of meditative practice and study. In our time together I hope to explore meditation in action – now – the real capacity we have to work with the essence of our shamatha-vipassana training, to notice, touch, label and breathe with what arises and can be let go of, to shift our attitude and ability to take a true step in the moment, which I have come to describe as 'moving from the left to the right side of my road'.
---
Marty Janowitz has been a student-practitioner of meditation and Buddhism since encountering his teacher Chögyam Trungpa Rinpoche at the age of 20 in 1970. He is a senior teacher within Rinpoche's lineages of Kagyu-Nyingma and Shambhala who received meditation instructor training from Rinpoche in 1972, who vividly reminded him to "always respect the experience of the student." Marty's path was most impacted by the 17 years he was able to serve Rinpoche – as cook, attendant, traveling secretary, protector, or student-teacher. Transitory roles included founding Executive Director of Naropa Institute (now University), a founding Director of Shambhala Training, Kusung Dapön (leader) of Rinpoche's personal guardian service, traveling aide de camp, and a member of Vajradhatu/Shambhala's governing boards. In 1986, he and his family immigrated with Chӧgyam Trungpa from Colorado to Nova Scotia, Canada in furtherance of a commitment to the integrated Shambhala path of inner and societal transformation. On behalf of his successor, Sakyong Mipham Rinpoche, he served as Warrior General of Shambhala and its Council of Warriors to strengthen the practices and teachings of Shambhala and then as an Acharya (authorized senior teacher) until his retirement in 2019.
Central to his practice and learning has been action towards sustainable and environmentally healthy communities expressing the heart of awareness. He has been involved in this movement for 30+ years as an activist, volunteer and consultant in Canada and internationally, most recently focused on sustainable communities and interfaith action on our climate crisis. Over the past five years, Marty and his wife Susanna transitioned to a new base in central Mexico from where he has continued teaching and also pursued training and practice as an executive and life coach, drawing on all the intertwined dimensions of his life experience.
---
You should receive a confirmation email within 24 hours of registration. Sometimes registration emails end up in spam or junk folders. It's also possible you've unsubscribed from emails from Shambhala, which prevents you from receiving the necessary emails. If you don't receive the confirmation email, please contact [email protected].
All paid registrants receive a link to the zoom recording early the following week.
Please register by noon of the day of the event in order to receive the zoom link in a timely manner.
Other cost options (see details on registration page)
USD 15.00