Aging Group: Will the Circle Be Unbroken
November 1 @ 3:00 pm

-

December 20 @ 4:30 pm

America/Los_Angeles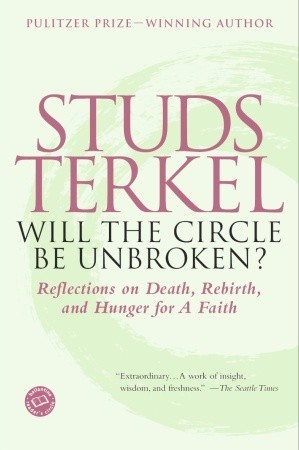 Contact person: Vivien Nagel
Please join the Portland Aging Group this November and December to discuss selected interview's from Studs Terkel's Will the Circle be Unbroken: Reflections on Death, Rebirth, and Hunger for a Faith. We will use the interviews as prompts for our conversations about death, rebirth, and faith in our own lives.
We'll start on Monday, November 1, with some of the interviews that were mentioned in the conversation with Studs Terkel, which we discussed in September: Vernon Jarrett, a journalist; Delbert Lee Tibbs, a former death row inmate; Tammy Snider, a Hiroshima survivor; and Uta Hagen, an actor.
Two eBooks and a regular book are available to borrow from the Multnomah County Library. A used hardcover copy is available locally at Powell's. You can find other copies for purchase online.
When you get your copy of Will the Circle be Unbroken, please suggest interviews to discuss in our later meetings in November and December that touch on your own views or experience. If you have ideas of topics, essays, poems, podcasts, or films we could use to spark our conversations in future meetings, please email David, the Aging Group Coordinator, with your ideas.
ABOUT THE PORTLAND AGING GROUP
The Portland Aging group, Aging in Enlightened Society, is a social group for those who are experiencing aging – whether it be turning 40 or 70.
The term 'aging' implies elders, and while that age group is certainly part of the focus, growing older is happening to each of us every day. Our purpose is to promote community, connection, and inspiration among people wanting to bring their life experiences onto the path of meditation and mindfulness.
Please contact the Aging Group Coordinator for more information or to be added to the Aging group email list for announcements of time and place for our meetings and other occasional announcements.

Zoom Meeting ID: 374 118 542 | Passcode: 108

To join by phone audio only dial
253 215 8782 US (Washington)
Passcode: 108
Call or email the Aging Group coordinator if you have technical questions.
If you are inspired to make a donation to the Portland Shambhala Center to help us offset the costs of closure you may give to the General Fund here: