This is an online program.
Walking the spiritual path properly is a very subtle process; it is not something to jump into naively. There are numerous sidetracks which lead to a distorted, ego-centered version of spirituality; we can deceive ourselves into thinking we are developing spiritually when instead we are strengthening our egocentricity through spiritual techniques. This fundamental distortion may be referred to as spiritual materialism. – Chögyam Trungpa Rinpoche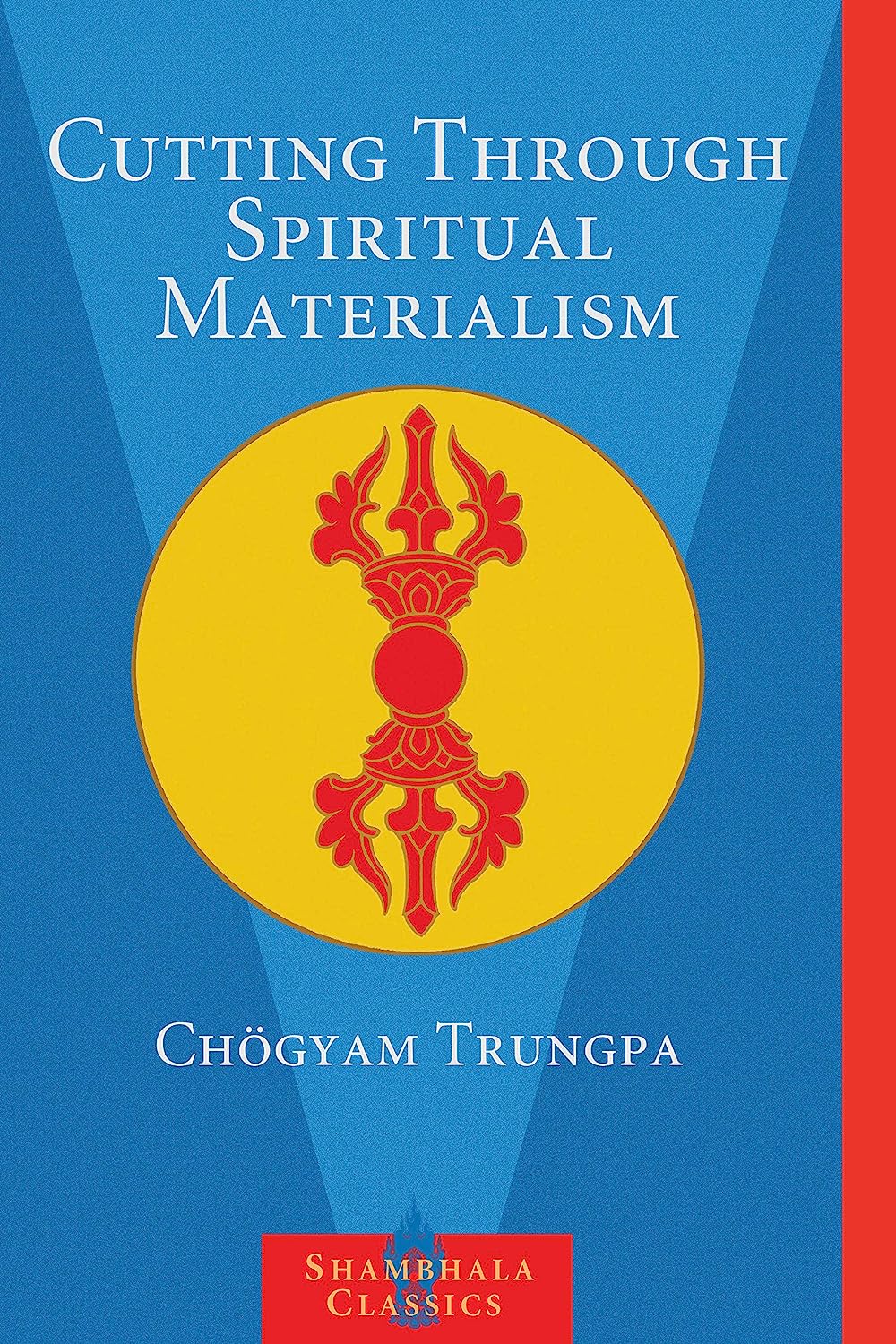 All students, practiced and new alike, are welcome to join for an online book study on the modern spiritual classic, Cutting Through Spiritual Materialism, by Chögyam Trungpa Rinpoche.
What is the Buddhist path? In this groundbreaking work compiled from two series of lectures given in 1970 and 1971, Tibetan meditation master Chögyam Trungpa Rinpoche describes the spiritual path, both the pitfalls and obstacles, as well as the genuine path to spirituality. He discusses the Three Yana path: the path of individual liberation (Hinayana), the path of liberation for all beings (Mahayana) and the quick path to total enlightenment (Vajrayana or Tantra). Topics include the development of ego, self-deception, lineage and the guru, emptiness, wisdom, and compassion.
This book study will be directed by Seattle Shambhala Board member Bob Salskov, with support from fellow Board member Natalie-Pascale Boisseau and Bret Ellerton, three seasoned members and teachers from Seattle Shambhala.
This course has two parts of five sessions each. Part II will cover the second half of Cutting Through. We will meet online via Zoom on the following Wednesday evenings from 6:00 PM to 8:00 PM PT:
Part II: Nov 1, 8, 15, (no class 22nd), 29, Dec 6
Prerequisites: If you would like to take Part II and did not take Part I, please contact the program coordinator Meli-Tashi Happy at [email protected] to find out options.
---
About the Teachers:
Bob Salskov (Director) has been a student of the Shambhala Buddhism for forty-eight years, including eight years as personal attendant to Chogyam Trungpa Rinpoche. He has been a teacher in the Shambhala School of Buddhist Studies and Shambhala Training.
Natalie-Pascale Boisseau (Assistant Director) is a meditation student of Shambhala Buddhism for thirty-four years, starting in Montreal and in Seattle since 1994. She is a meditation instructor and teacher for both Buddhist studies and Shambhala training. She is a writer and facilitates contemplative writing practice, as well as being a healer in the tradition of Japanese acupuncture and meridian therapy. She has completed graduate studies in contemplative psychology and is a teacher – and continued student – with the Right Use of Power Institute.
Bret Ellerton (Assistant Director) has been practicing and studying within the Shambhala community for 30 years. He has a degree in religion with a focus on Buddhism from CU Boulder. He has taught within the Shambhala School of Buddhist Studies and is a meditation instruction. He has served as Dharma Arts coordinator and Vajrayana practice coordinator in Seattle. He also has 25 years of experience in teaching young children and currently directs a preschool, as well as shares mindfulness practice with early childhood educators in a secular context.

---
Our Generosity Policy: We have a generosity policy to make our offerings available to all who wish to participate. If the program price is an obstacle for you, please consider what works for you, and offer as much of the program fee as you can.
Registration: When registering, you'll have the opportunity to pay online through PayPal (or by credit card), which greatly simplifies the process for us. For further details, see our Program Policies and FAQs page.
Questions? Please contact the program coordinator, Meli-Tashi Happy, at [email protected]