Program Details
Mukpo Institute: Spring Semester

with Suzann Duquette & John Rockwell & Michael Greenleaf & Bill Brauer
February 17 / 12:00 AM - May 11 / 12:00 AM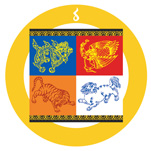 Mukpo Institute students conduct a three-month investigation into the principles of Hinayana and Mahayana Buddhism. Students study and practice the fundamental meditation techniques of shamatha and vipashyana. Understanding and practicing these techniques is supplemented by studies of Buddhist philosophy of mind and consciousness. There are also opportunities for students to witness and practice traditional contemplative arts.

The heart of the Mukpo Institute semester is a month-long mindfulness retreat called dathün. During dathün, students apply mindfulness to all activities in addition to scheduled walking and sitting meditation sessions. Meals are taken in traditional Japanese monastic style; silence or mindful speech is observed; also mind-body disciplines are practiced.

The objective of the Mukpo Institute curriculum is to connect traditional wisdom teachings with students' present lives and real concerns. Our students arrive with diverse academic and professional backgrounds; the Institute respects and fosters this diversity. The curriculum, presented within the experience of living in a contemplative community, is ideal for all who wish to bring simplicity, clarity, and ultimately joy into their personal and professional lives.

For more information, please visit the Mukpo Institute website.

To Apply

To be accepted to the Mukpo Institute, one must first apply. Applications for Mukpo Institute are rolling and can be submitted at any time. Applicants will automatically be considered for the next semester unless otherwise indicated. Generally, applications submitted less than three weeks before the next semester will be considered for the following semester. Applicants will be will be contacted within two weeks of receiving all application materials.

Special Housing Rate for Mukpo Students

The housing rates for Mukpo students are discounted from the regular rates listed on our accommodations page. The total housing fees are:



Dormitory Housing: 90



Shared Room: 20



Private Room: 80


Go to Karme Choling's website