Program Details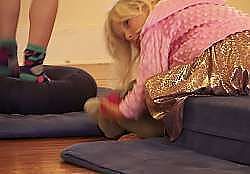 Kids First!!

with Iris Ramos
September 1 / 11:00 AM - September 1 / 12:00 PM



The Austin Shambhala Meditation Center is delighted to offer a meditation program for children of all ages. On the first Sunday of every month, we offer meditation instruction and mindfulness activities for children. We have two groups: Children ages 7 and under are led by Shastri Iris Ramos in Alaya. Children ages 8 and up are led by Kelly Lindsey in the Smith House. We request that parents with children 7 years and younger stay in support of their children in the teaching environment. Parents of children ages 8 and older are welcome to join in the public meditation or receive meditation instruction.

The children's program begins at

11 am

. Check-in begins at

10:45 am

outside between the 3 main buildings. Please arrive a little early to make a name tag and get settled in so that we can begin promptly at

11am

. The program concludes at

noon

, and then families are invited to join the rest of the sangha for tea, snacks, and conversation in the community room.

Suggested donation: .


New families are always welcome to join us!
Go to Austin's website