Program Details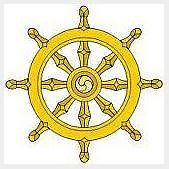 Taming the Mind (from Shambhala School of Buddhist Studies)

with Janet Bronstein & Marion Buckley & Phyllis Mark
March 6 / 7:00 PM - April 6 / 6:00 PM



We are pleased and excited to present offerings from the Shambhala School of Buddhist Studies. Depending on response, we plan to offer four courses, approximately one each quarter of the year. The structure will be five Wednesday nights (7-9 pm) plus one full Saturday intensive (9 am - 6 pm).




This first course is Taming the Mind. It introduces the view and practice of hinayana Buddhism: renouncing samsara and the joy of developing discipline on the path that leads to liberation. The necessity of meditation and contemplation are emphasized, and the contemplation of the four reminders introduced. The six classes are:





The Buddhist Path of Transformation (Wed., 3/6/2019)



Mindfulness and Awareness: The Practice of Calm Abiding (Wed., 3/13/2019)



True Suffering (Wed., 3/20/2019)



Motivation and the Four Reminders (Wed., 3/27/2019)



Faith and Discipline (Wed., 4/3/2019)



Selflessness and Liberation (Sat., 4/6/2019)



The course price includes the text, Taming the Mind and Walking the Bodhisattva Path, which will also be used in the second course. Participants should also have a copy of Cutting Through Spiritual Materialism by Chögyam Trungpa Rinpoche (not provided). Please register early so we know how many books to order!

To have the course be financially accessible to as many people as possible, the price is lower than previous multi-class courses. The first class is offered for ; the last five may then be taken for an additional paid at the second class. Alternatively, the whole course may be paid for at initial registration for . As always, our Generosity Policy is available to those who need to pay less. A Patron Price of 0 will support the Center and students.
Generosity Policy applies: The Birmingham Shambhala Center does not wish restricted finances ever to interfere with one's ability to receive the teachings.


If paying the full price presents an obstacle to your participation, please use the "Pay what you can" option for registering, filling in the box with the price you are paying. You can pay online with PayPal or a credit/debit card, or pay the amount at the door.


If you need to arrange a payment plan, please make arrangements prior to the program by contacting Christine Dietsch at [email protected] or 205-239-9648.


For those who can offer more than the program price, we have a "patron price". Your generosity in offering the patron price helps cover the costs for others who are not able to pay the full price.


Go to Birmingham's website