Program Details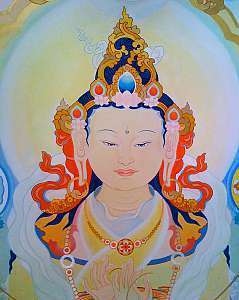 Ridgen Wochenende / Rigden: Unconditional Confidence

with Sabine Rolf
November 22 / 7:30 PM - November 24 / 6:00 PM



Der Weg von Shambhala kulminiert im Rigden Wochenende. Die Rigden repräsentieren unsere grundlegende wache Natur und verkörpern das Prinzip von bedingungsloser Beherztheit.




Das Wochenende beinhaltet die Übermittlung der Windpferd-Praxis und die Lehren der "6 Ways of Ruling".




Teilnahmevoraussetzung: Shambhala Stufe 5




Die Probleme der heutigen Welt stellen die Menschheit auf die Probe. Gefragt sind einfache Lösungen und Herangehensweisen, Initiativen, die von sozialem Verantwortungsbewusstsein und von Mitgefühl getragen sind. Das ist das Prinzip des Rigden, der unbedingte und unerschütterliche Zuversicht verkörpert.

Diese ist das Resultat einer direkten Erfahrung des guten Urgrundes und des wachen Herzens, welches jedem Menschen zueigen ist.
Diese Erfahrung provoziert eine erfrischende Kraft, auch Brise des Entzückens genannt: sie erweitert unsere Wahrnehmung in Richtung größere Welt.

Historisch betrachtet waren die Rigden die Herrscher von Shambhala. Sie verkörperten die Qualitäten erleuchteter Herrschaft.

Dieses Wochenende ist eine Einführung in die Praxis des Erweckens von Windpferd und in das Rigden–Prinzip, unbedingte Zuversicht.
Den Teilnehmern wird das Shambhala-Gelübde angeboten, das die Anerkennung und Verkündigung der grundlegenden Güte aller zum Ausdruck bringt.




Zusätzlich entstehen Kosten von 50 € für Praxismaterial.




Übernachtung im Zentrum ist für einen kleinen Unkostenbeitrag von 8.- pro Nacht möglich oder kann auch privat organisiert werden.




Wir bitten um Anmeldung bis zum 3.11.19. - vielen Dank im Voraus!



Go to Marburg's website