Program Details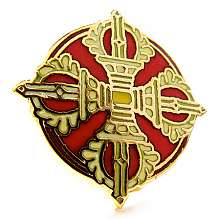 The Healing Power of the Vajrayana Path

with Christie Cashman
October 5 / 8:30 AM - October 9 / 6:00 PM



The vajrayana teachings are renowned for providing the strongest medicine in times of the greatest confusion. But it's also during these times that practices of invoking the deity, resting in the nature of mind, or engaging in sacred perception can feel very remote. Throughout this five-day retreat, we will explore how wrathful, peaceful, and effortless vajrayana methods "touch the fruition," and thus bring us back to our inherent wisdom.

Practitioners of ngondro, Werma, mahamudra, Vajrayogini and Scorpion Seal are welcome. The program will include discussions with each group of practitioners, talks and personal interviews with the acharya. Lungs will be given for Sakyong Mipham Rinpoche's White Tara, and the Rain of Blessings Guru Yoga and The Short Daily Practice of Vajrakilaya by Mipham the Great—more information to follow. The program counts toward all retreat requirements. Partial attendance is welcome—one may come for a day or for certain talks.

Discussion topics will include





Co-emergent wisdom: Making direct contact with confusion in order to liberate it


Heart message of Yeshe Tsogyal and Padmasambhava


Remembering our Vajrayana training as we near death


The Heart Sutra as the basis and protection for the Vajrayana


Awakening to luminosity and limitless perception through imagination


Partial attendance is allowed. The program counts toward ngöndro, Werma, and Scorpion Seal Assembly requirements.
Prerequisites
Vajrayana Seminary or Sacred World Assembly
Acharya Christie Cashman entered the Shambhala Buddhist teachings in 1971, dedicating herself to intensive study and practice, and eventually teaching a full range of courses, from introductory meditation intensives at Naropa University to Vajrayana sadhana classes and Shambhala Training levels. For many years she taught at the three-month Vajradhatu Seminary and worked closely with Chögyam Trungpa Rinpoche on curriculum design and implementation.
Christie moved to Nova Scotia in 1987, and in subsequent years taught at several Warrior and Kalapa Assemblies. From 1999 to 2003 she served as international executive director of Shambhala Training.
In 1999, Sakyong Mipham Rinpoche appointed Christie as an acharya, thus beginning for her a life of traveling and teaching. She enjoys teaching a variety of Shambhala Programs, but her main teaching focus has been on the Vajrayana path retreats: Werma Sadhana Vajrayogini Ngondro and Sacred World Assembly. In 2012, the Sakyong requested that Christie offer a program, "The Sacred World of Kyerim," to both his Werma and Scorpion Seal students to enrich and ease their journey from the first stages of the natural and healing capacity to imagine into the sacred world of pure vision.
Under the Sakyong's guidance, Christie continues to work with curriculum development and the training of Shambhala teachers. She lives with her husband, Paul Cashman, in Halifax, Nova Scotia, is an avid gardener and has recently taken a great interest in exploring local year-round food production.
Pricing
Program Price: 5
*Patron Price: 0
Weekend Rate (Saturday & Sunday): 0
Day Rate:
Nobody will be turned away for lack of funds.
*Your generosity in paying the patron price helps support those who are unable to pay the full program price.
Contact
If you have any questions or would like to staff the program, please contact Kathryn: kathrynrile [at] icloud [dot] com.
Registration
Your advance online registration and payment is strongly encouraged. Not only does it help us plan for the retreat, but registering in advance will ensure you receive important communications about the retreat.
Go to Berkeley's website