Program Details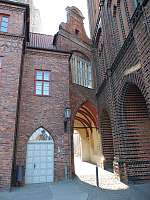 Rites of Passage / Riten des Übergangs

with Mitchell Levy & Yeshe Fuchs
November 1 / 7:30 PM - November 3 / 4:00 PM



"In the beginning ist the end and at the end is the beginning"
(Rites of passage for adults)

Many transitions, like birthday, graduation from school, or marriage are celebrated in our western culture. The celebration marks what has been achieved and arouses positive energy for coming challenges - the open space before us.
Transitions are ongoing from one moment to the next, hour after hour, year after year. The fresh morning air changes into the warm afternoon and then into twilight and night. The light disappears, but we count on it returning. Although very well known and often experienced, it still is unfathomable to us that we cannot hold on to anything.
In our program " In the beginning ist the end and at the end is the beginning" ("Rites of passage" ) we spend time together to celebrate life and contemplate impermanence in the atmosphere of Shambhala culture. There will be time to listen to talks, exchange, reflect, eat, and grow more familiar with ourselves and each other. We could become more of a family. We are drawing inspiration from ancient traditions that are now forgotten, where rites of passage increased one's belonging to the clan. This belonging is a cause of celebration.
Because this is the first "Rites of passage" in Europe, we don't know what exactly will happen……
The main teacher is Acharya and Lamen (= medical doctor) Mitchell Levy and the Co-Preceptor will be Shastri Yeshe Fuchs.
The weekend is for people who are familiar with the Shambhala teachings and culture and who have passed the midst of their life.
Talks are in english.



---
"Am Anfang ist das Ende, am Ende ist der Anfang"
Riten des Übergangs für Erwachsene

Manche Übergänge werden in unsere westliche Kultur gefeiert, wie Geburtstag, Abschluss von der Schule, Hochzeit usw. Die Feier markiert, was erreicht wurde und erweckt positive Energie für das Kommende, den offenen Raum vor uns.
Übergang findet immer statt von einem Moment zum nächsten, Stunde um Stunde, von Jahr zu Jahr. Die Frische des Morgens geht über in dem warmen Nachmittag und später wird es dunkel und kälter. Das Licht verschwindet, aber wir rechnen damit das es zurück kommt. Alles so bekannt, so oft erlebt und immer doch unfassbar, daß wir nichts festhalten können.
Bei unserem Programm "Riten des Übergangs" verbringen wir Zeit zusammen um im Rahmen unsere Shambhala Kultur das Leben zu feiern und die Vergänglichkeit zu kontemplieren. Wir können uns austauschen, uns besinnen, Vorträge hören, essen und uns selber und einander näher kommen. Unsere Nähe zu einander könnte wachsen, daß wir mehr wie eine Familie werden. Wir knüpfen an bei uralten Gebräuchen, die in Vergessenheit geraten sind, wo die Riten des Übergangs die Zugehörigkeit zum Clan versterkt haben. Diese Zugehörigkerit können wir feiern.
Weil es das erste Mal ist, daß die Riten des Übergangs in Europa stattfinden, sind wir alle sehr gespannt wie genau der Ablauf sein wird.
Der Lehrer ist Acharya und Lamen (=Arzt) Mitchell Levy aus den USA, der dort schon einige ROP Weekends geleitet hat, Shastri Yeshe Fuchs ist die Co-Lehrerin.
Dieses Wochenende ist angedacht für Menschen, die die Mitte des Lebens überschritten haben und vertraut sind mit den Shambhala Lehren und Kultur.
Die Vorträge sind in Englischer Sprache. Auf Anfrage gibt es eine Übersetzung.
---

Gerda Jansonius, die Koordinatorin, beantwortet im Vorfeld gerne alle Eure Fragen dazu: [email protected]
Anmeldung erfolgt über die Webseite. Frühbucher beachten bitte, die Überweisung bis zum 1.10.19 auszuführen. Vielen Dank im Voraus! Übernachtung im Zentrum ist für einen Unkostenbeitrag von 8.- pro Nacht möglich.
Gebühr: EUR 150,- Frühbucher EUR 120,-
Im Preis inbegriffen: 2 Mittagessen, Getränke und Snacks
Überweisung bis 1.10.19 an: Shambhala Zentrum, Volksbank Mittelhessen
Bic: VBMHDE5F - IBAN: DE16 5139 0000 0016 5055 01

You may register on the website.
A limited number of people can be accomodated in the centre for €8.- a night.
Costs of the weekend: €150.-, early bird €120.-
Early birds please note: the deadline for payment is October 1, 2019. Thank you!
Money transfer to:
Shambhala Zentrum, Volksbank Mittelhessen
Bic: VBMHDE5F
IBAN: DE16 5139 0000 0016 5055 01

For all questions please contact the coordinator Gerda Jansonius: [email protected]

Go to Marburg's website