Program Details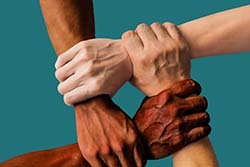 Together Now, as We Are: Creating Vibrant and Just Community - Toronto Shambhala Centre

April 27 / 9:00 AM - April 28 / 5:00 PM



Together Now, as We Are: Creating Vibrant and Just Community
with
Acharya Charlene Leung, Shastri Trinley Busby, and Shastri Jil Amadio




at
Shambhala Toronto
670 Bloor Street West,
Suite 300
Toronto, Ontario
M6G 1L2 Canada

You are invited to join us on April 27 and 28th for a weekend where we explore vibrant, just community by utilizing meditation, contemplation, conceptual presentation, embodied exercises, feeling, and art. In community, we will explore imbalances within ourselves, each other, and the world thus freeing blockages and allowing a natural unfolding for true healing. Through this exploration we can embrace our authentic wholeness and dignity.

Bringing care to a collective inspiration for the Shambhala Great Lakes Region, we might recognize that we long for a just, kind, inclusive, community. As we know from our meditation practice, deep listening, both to ourselves and to others, is key to open-hearted curiosity. Curiosity allows our care to blossom further.




PLUS
There are two (free) online Zoom modules prior to the program. These modules will help us to have a shared understanding and language that will support the retreat. You will receive arrangements for viewing the modules after you register.

REGISTRATION on Shambhala Toronto's website




https://toronto.shambhala.org/program-details/?id=394092





About the teachers



Acharya Charlene Leung serves as Chairperson of the Shambhala Diversity Working Group since 2009 and is a teacher for the UNtraining, a Shambhala inspired organization devoted to healing personal and social oppressions. She is a student of both the Druk Sakyong, Chogyam Trungpa Rinpoche and the Sakyong Mipham Rinpoche. Charlene served on the Shambhala Transition Task Force. She and her husband raised two sons in a Shambhala household. She has a private acupuncture/herbal medicine practice and teaches Wild Goose Qi Gong in the San Francisco Bay Area.
Shastri Trinley Busby is a student of the Sakyong, Mipham Rinpoche and was appointed a shastri in 2013. She served as director of Awake in Action - Vancouver Shambhala's office of social action; sat on Vancouver's governing council; advised on the Ziji Collective International steward's council; and for the Shambhala Office of Social Engagement. Before moving to Seattle in 2017 she worked as a frontline service support provider in Vancouver's Downtown Eastside for populations with concurrent mental health and substance abuse challenges experiencing homelessness. In Feb. 2019 she is moving from Seattle, WA to Pittsburgh, PA with her husband Michael and cat, Buster


Shastri Jil Amadio has been a student of Shambhala since 1989. She works in communication, crisis and change management, and uses mindful communication to bridge group challenges. Jil has led cause-marketing initiatives such as MAC Aids Fund, Stop Violence Against Women campaigns and Children's Aid Society programs. Jil also produces documentary films that shine a light on underserved communities. Appointed Shastri in 2016, she is inspired to support local leaders and foster regional unity. Jil loves to spend time with her teenage daughter, who regularly teaches her about humility.
Go to Mississauga's website