Program Details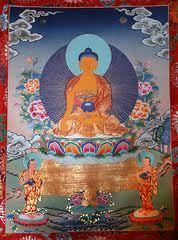 Refuge & Bodhisattva Vow Ceremonies

with Richard John
September 29 / 6:00 PM - September 29 / 9:30 PM



The REFUGE VOW marks the decision to commit oneself wholeheartedly to the Buddhist path and to further one's practice and training. It is the formal commitment to becoming a Buddhist, following the example of the Buddha Shakyamuni, his teachings (the Dharma) and joining the community (Sangha) of fellow practitioners.




The BODHISATTVA VOW is a further commitment to put others before oneself and to work wholeheartedly for their benefit. The basis of this vow is the aspiration to develop friendliness, compassion, and genuine insight through the practice of the six Paramitas and to undertake the view and practice of the Mahayana.




Individuals wishing to take the Refuge Vow or Bodhisattva Vow should meet with their meditation instructor. In addition, they will be expected to take a preparatory class and study the pertinent vow source book prior to taking the vow. These classes will start the week of September 8th. Please click for information on the Refuge Vow Preparatory Class or the Bodhisattva Vow Preparatory Class.




Acharya John will conduct brief interviews with all vow participants on Friday, September 27th.




Please contact Claire Twose at [email protected] if you would like to take one of the vows or have any questions. If you would like to meet with a meditation instructor but do not currently have one, please contact Ed Hargadon at [email protected] or 443-286-7162.




Bodhisattva Vow (6:00 PM). Refuge Vow (6:45 PM).




Reception to follow ceremonies (7:45 PM).
Go to Baltimore's website