Program Details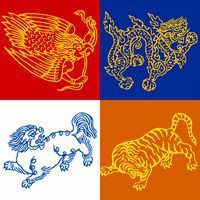 Die vier Würden - Garuda, Drache / 4 Dignities - Garuda, Dragon / online

with Ingrid Hoffellner & Ernst Steininger
May 8 / 7:00 PM - May 10 / 6:00 PM



english description below





" If we accept impermanence, we can dare to live beyond hope and fear of what will happen next. This is the outrageousness of the Garuda."




"The wisdom of the Dragon asks us to contemplate why we are trying to make things so solid. What is it we´re trying to hold together?"




Sakyong Mipham Rinpoche




Nach der Erfahrung der Sanftmut des Tigers und der Freude des Schneelöwen reisen wir weiter, in die Welt des nicht-messbaren Alls, über Furcht und Hoffnung hinaus, unerhört. Die unergründliche Weisheit des Drachen lehrt uns langsamer zu werden, loszulassen und im zu Augenblick sein.




Wir wagen unerhörtes, und wollen die Shambhalatrainingsstufe Garuda+Drache online über zoom anbieten. Haltet euch bitte das ganze Wochenende frei, den genauen Zeitplan arbeiten wir noch aus. Es beginnt auf jeden Fall Freitag um 19 Uhr. Es gibt Vorträge, Austausch, Mediationsgespräche, kontempßlative Übungen und informelle Teepausen.




Ihr braucht ein Gerät mit Mikro und Kamera. Das kann auch ein Tablett oder das Handy sein. Alex schicke euch den zoom-link. Alles weitere später.




Vorbedingung: Shambhala Training Munter / Schneelöwe





KONTAKT ⇒ Alexander Lehner ([email protected])




Kosten ⇒ € 160,- (Frühbucher Preis: € 130,- bei Einzahlung bis zum 24. April 2019)




Finanzielle Unterstützung durch RATNA möglich (bitte bei der Anmeldung angeben oder Anfrage an Volker Frey, [email protected])




Kontakt für Rückfragen: Alexander Lehner




---
After the experience of the gentleness of the tiger and the joy of the snow lion, we travel on, into the world of the unmeasurable universe, beyond fear and hope, outrageous. The unscrutable wisdom of the dragon teaches us to slow down, to let go and to be in the moment.
We dare the outrageous, and want to offer the Shambhala training level Garuda+Dragon online via zoom. Please keep the whole weekend free, we are still working out the exact schedule. In any case it starts Friday at 7 pm. There will be lectures, exchange, mediation talks and informal tea breaks.
You will need a device with microphone and camera. This can also be a tray or the mobile phone. Alex will send you the zoom-link. Everything else later.
Outrageaous and inscrutable
Prerequisite: Shambha training perky / snow lion
Translation into English possible
KONTAKT ⇒ Alexander Lehner ( [email protected])
Cost: € 160,- (Early bird: € 130,- until 24th of april 2019). Repeaters half price

Financial help: RATNA; send a request to [email protected]
Go to Vienna's website