Program Details
Vajrayana Circle

with Holly Gayley
September 15 / 9:00 AM - September 15 / 12:00 PM



This Sunday morning program is a continuation of the weekend of practice and studay with Acharya Holly Gayley.




Vajrayana practitioners will gather to deepen our exploration of the themes from this weekend through stories of women in terma lineages in eastern Tibet. How do we understand our own emerging lineage and current situation in relation to traditional Buddhist understandings of transmission and the feminine principle?




This Is a Restricted Program
This part of the program is restricted to people who have received vajrayana transmission in the Shambhala, Kaygu, or Nyingma Buddhist Traditions.




You can register for the weekend program, Reclaiming Women's Stories in Buddhism here.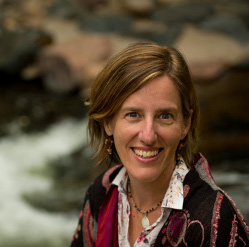 Acharya Holly Gayley completed her M.A. in Buddhist Studies at Naropa University (2000) and Ph.D. in Tibetan and Himalayan Studies at Harvard (2009). Her research into contemporary Buddhist literature and its lived contexts has taken her to eastern Tibet on research trips since 2004. Currently, she is Associate Professor in the Department of Religious Studies at the University of Boulder Colorado, where she teaches courses on Tibetan Buddhism, Women in Buddhism, Gender in Hagiography, Buddhist Ethics, and Transnational Buddhism. She has been a member of the Shambhala community for over twenty years and regularly leads meditation workshops.
Acharya Gayley's writings can be found on her website.
Cost
Program Price:
Nobody will be turned away for lack of funds.
Contact
If you have any questions please contact Faith at fomiller55 [at] aol [dot] com.
Registration
Please register and pay online in advance of the program to save your place and let us know to expect you.


Go to Berkeley's website