Program Details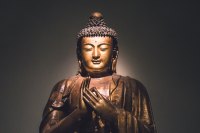 Relative Bodhicitta

with Merlin Cox
April 25 / 9:30 AM - April 26 / 6:00 PM


"If you want to be miserable, think only of yourself. If you want to be happy, think of others."
We seem mostly to be following the "Me Plan" - the way of life based on the implicit assumption that putting our own interests first will somehow eventually make us happy. We seem to have been on this regime for a long time but has it worked?
The teachings of the Great Vehicle of Buddhism (the Mahayana) tell us that there is another way.
According to these teaching we each of us have the potential for uncovering bodhichitta - "awakened heart" or "enlightened mind". Absolute bodhichitta clearly sees that the rigid distinction between our own interests and those of others is ultimately illusory. Relative bodhichitta involves "exchanging self for other" using meditative and contemplative techniques and in daily life. This is said to be the way to compassionate joy.
In this weekend we will explore the teachings of relative bodhichitta through meditation, talks, exercises and discussion.
This weekend is part of 'The Way of Compassion' series of weekends. You are welcome to attend this, or any of the other weekends, as a one-off programme, or to deepen your experience by following the whole series.
Payment
Cost of the course is £130. An Early Bird price of £110 is available until Saturday 11th April 2020. A concession cost of £80 or £60 is available according to income level. Please contact [email protected] to apply for a concession.
Shambhala Volunteers - 50% off (to attend as a participant)
It is traditional on Buddhist programmes to have the opportunity to offer the teacher what we call a heart gift. This is an entirely voluntary possibility to offer a financial gift to the teacher, in appreciation of their willingness to devote their time and energy in sharing these teachings.
Payment Terms and Conditions
Please register and pay in full on registration, to pay by card - please click through to PayPal where there is an option to pay by card without having a PayPal account. Cancellation up to 1 week before the programme will receive a full refund, after that there will be a £20 fee charged for cancellation up until 24th April 2020 after which no refund is granted.
Go to London's website