Program Details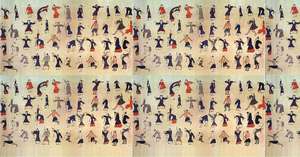 Traditional Chinese Qigong Retreat (levels 1 & 2)

with Mathias Pongracz
January 17 / 4:00 PM - January 19 / 6:00 PM



Cultivate strength of body and calmness of mind through the healing Taoist practice of qigong. Take this rare opportunity to receive instruction in two unique lineages, The Pre-celestial Limitless Gate School (Xiantianwujimen) and the Yiquan School, neither of which have previously been fully transmitted to students in the West.




Xiantianwujimen was founded in the Song dynasty (circa 10th to 12th centuries) by Taoist sage Chen Xiyi, who is recognized as "the father of qigong." This lineage specializes in using qigong techniques to build the foundation for sitting meditation. The Yiquan School was founded by Wang Xiangzhai in the early 20th century. Yiquan is most well-known for its standing qigong postures called Zhangzhuan, which are designed to still the mind while simultaneously gathering and circulating internal energy.





Programme
Level I: we will practice techniques of inner and outer qigong, including tendon changing, marrow washing, self-massage and calisthenics, which strengthen the muscular-skeletal system, nourish the internal organs, circulate internal energy and still the mind. We will learn Chen Xiyi's sleeping and walking qiqong and Wang Xiangzhai's standing qigong.
Level II: we will delve more deeply, studying the Twelve Devas Tendon-Changing and Nine Self-Massage systems in their entirety. The Tendon-Changing postures are powerful techniques that cultivate flexibility, strength and softness in the joints, muscles and tendons. The self-massage exercises focus on nourishing the internal organs and facilitating the circulation of qi in the meridians.
Practical
Programme starts Friday January 17, 5pm and ends Sunday January 19, 6pm.

Attendance during the whole session is important to apply for the next level.
This programme is taught in French. Free translation into English or other languages to be confirmed. Important: Translation services are possible only if you register your request at least two months in advance of the programme.
Repeater special price
If you participate to this programme (level 1-2) for the second time, a reduction of €50 will be applied to the standard price below. To benefit from this repeater special tarif, please make sure you announce this option when registering.
Any discount based on income would be calculated on the reduced repeater price.
Go to Dechen Chöling's website