Program Details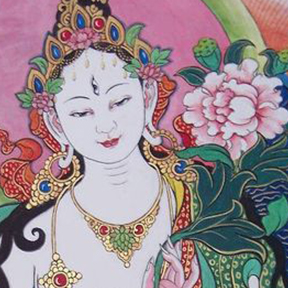 Being Tara: Uniting the Dharma that is Taught and the Dharma that is Experienced

with Eve Rosenthal & Basia Solarz
September 24 / 7:00 PM - October 22 / 9:00 PM



The connection between formal practice and how we move through our lives is not always clear. In this series of gatherings, we will explore cultivating compassion through White Tara practice and how it can support our activity, uplift our attitude and enlarge our perspective. Each gathering will include creative activity to explore the dharma that is experienced, White Tara practice, and the dharma that is taught.




Open to all. No charge, donations gratefully accepted. Come to the whole series or drop in to any session.




Tues. Evening, Sept. 24: Meeting White Tara : White Tara practice as a meditative method. What are we trying to accomplish?




Tues. Evening, Oct. 1: Deepening our compassion: Exploring what compassion is and is not. Understanding how engaging in the formal practice of White Tara helps us to manifest this noble quality in every-day life.




Tues. Evening, Oct. 8: Loving kindness: meeting the challenge of engaging this world with an open heart.




Saturday, Oct 19- Day long retreat: Poised and ready: being White Tara in the world. This day will include White Tara practice, a social engagement field trip, and harvesting insights.




Tues. Evening, Oct. 22: Blue Lotus: Synthesizing insight and action.




White Tara group practice with a leader but without instruction will continue the 2nd and 4th Tuesday of each month at 6-6:45PM. First session will be Oct. 29th (an exception as it's the 5th Tuesday!)




Suggested donation, but no one turned away for lack of funds: for Tuesday evenings for the Saturday full day, or a donation for the full series of 0.



Go to Halifax's website