Program Details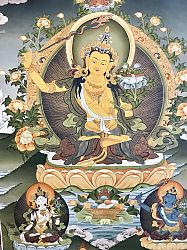 Bodhisattva Vow Ceremony

with Richard John
October 29 / 5:30 PM - October 29 / 9:00 PM






The BODHISATTVA VOW is a further commitment to put others before oneself and to work wholeheartedly for their benefit. The basis of this vow is the aspiration to develop friendliness, compassion, and genuine insight through the practice of the six Paramitas and to undertake the view and practice of the Mahayana.




The prerequisites for taking the bodhisattva vow are having taken the refuge vow at least six months previously, and approval from a meditation instructor. There will be a one day class on the meaning of the Bodhisattva Vow on Saturday October 19th. The class is not mandatory for taking the bodhisattva vow, but it is highly encouraged for participants to take the class if possible. You may register for the class on the Seattle Shambhala Center website.




If you would like to take the Bodhisattva vow, please register below, and arrive at the Seattle Shambhala Center at 5:30PM. Friends and guests who have already taken the bodhisattva vow themselves are welcome to attend the Bodhisattva vow ceremony, but the ceremony is not open to the general public. Friends and guests should also plan to arrive at the Center at 5:30. If you're coming as a guest, there's no need to register (only people who are actually taking the vow should register).




There is no fee for taking the Bodhisattva Vow. However, there will be an opportunity to offer a heart gift to the Acharya.




Heart Gifts




It is customary to offer a monetary Heart Gift to the teacher. Acharyas receive no salary or benefits, and depend upon this income in order to teach for a living. This is completely voluntary according to your inspiration, and there is no suggested amount--any amount is appreciated.
Go to Seattle's website