Program Details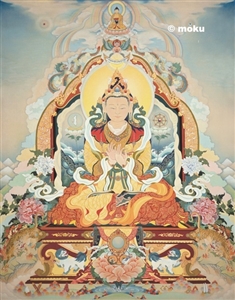 Shambhala Path Meditation Instructor Part 2 with Acharya Dale Asrael, in Victoria, Australia

with Dale Asrael
January 18 / 12:00 PM - January 22 / 12:00 PM



Shambhala Australia and Shambhala International are pleased to offer Part 2 of the training program for Shambhala Educators who feel inspired and ready to continue along the path of helping others on their meditative journeys.




When we support students along the Shambhala path, we are bringing together the Shambhala principle of basic goodness and meditation practices that are the distillation of thousands of years of practitioners' experience. We are helping others to recognize that meditation is a portal through which we can discover our innate human capacity for wakefulness, wisdom and compassion—and to learn how to bring those qualities into our lives, creating good human society.




Skillfully guiding others in the journey of meditation requires knowledge based on studying view and practices of meditation, as well as on deep personal experience. The SPMI needs to be able to authentically meet each student where they are and provide the appropriate next step on the path of meditation, and to do this in an environment of kindness, acceptance and understanding.




This training offers a strong foundation in knowledge and skills essential to being a Shambhala Path Meditation Instructor. We will review the fundamental teachings of meditation, and study and practice how to support students both within and between the Way of Shambhala programs and courses. Participants also will deepen their understanding of the practices of listening, reflection and inquiry, and will practice ways in which to bring these skills into their work with students.




Acharya Dale Asrael




Dale is an Acharya (Senior Teacher) in the Shambhala lineage. She became a student of the founder of Shambhala, Chögyam Trungpa Rinpoche in 1973, and worked closely with him for several years, and then became a student of the current leader, Sakyong Mipham Rinpoche. She has taught in the field of contemplative education for more than thirty-five years, and is an Associate Professor at Naropa University, in the Mindfulness-based Transpersonal Counselling Psychology and Master of Divinity programs. She is the founder and teacher of Naropa's Mindfulness Instructor Training program.




In addition to her teaching at Naropa, she leads meditation retreats and dharma programs internationally, and trains meditation instructors. Dale is a practitioner of the ancient contemplative body-mind practice QiGong and has been appointed to teach in the Xiantianwujimen and Yiquan lineages by Daoist lineage holder, Eva Wong.




Pricing




Program fee includes all food. Food preferences are taken into account as far as possible, and meat, vegetarian, and vegan options are available. Accommodation is a separate charge (see below).




The Full Fee is 8; the Concession* Fee is 5.




*Concession fees are intended for people who are full-time students, on pensions/health care cards or on low income (under ,000, i.e. 80% of 2018 median Australian wage).




Heart Gift




It is traditional for students to offer a monetary gift to the teacher in appreciation for receiving the teachings, and in recognition of the years of training and understanding the teacher has cultivated. There will be an opportunity to offer a heart gift at the program.



---
Accommodation
Accommodation is available in shared dorm rooms, single rooms, or single ensuites.
Single ensuite rooms are limited and will be assigned on a first come, first served basis, with preference given to participants attending the full half- dathün. Reservation of an ensuite room requires a 50% deposit toward accommodation.
Students are requested to bring their own bedding. Laundry facilities are available.
If bringing your own bedding is not possible (particularly for international travellers) please let us know at registration and we will aim to make other suitable arrangements.
Limited camping and caravan sites are also available, and are charged at the shared room rate per person.
| | | | |
| --- | --- | --- | --- |
| | Shared room | Single | Ensuite |
| 4 nights | 8 | 0 | 0 |
| | | | |
---
About the Venue
SPMI2 will take place at a peaceful residential retreat centre 25 minutes outside of Euroa, Victoria, 1.5 hours north-east of Melbourne at the foot of the Strathbogie ranges.
The closest airport is Tullamarine in Melbourne. There is also a train station at Euroa.
The retreat concludes at 12 noon on Wednesday 23 January and will be followed by lunch. Participants should plan to leave the venue on the early afternoon of 23 January. Lifts to Euroa will be offered, and shared lifts to Melbourne may be possible (we will be clearer once registrations are complete).
---
Materials for the retreat
Study Materials: $ to be advised.
---
Payment
Registration for SPMI2 requires a deposit of AUD0.
Full payment is required by no later than 30 November unless other arrangements have been agreed.
Deposits are non-refundable after 30 November except in exceptional circumstances.
Program fees are non-refundable after 21 December except in exceptional circumstances.
Please pay by Electronic Funds Transfer (EFT) payment to our bank account.
Account Name: Shambhala Australia
BSB: 033 686
Account Number: 559490
Use 'YournameSPMI' as the payment reference.
(Please note this program is hosted by Shambhala Australia and this account is the Australian account. Please disregard the Melbourne account information on the registration page).
Credit card payments will be processed through paypal and will incur an additional fee. If you would prefer to pay by credit card, please contact Sue DiPietro ([email protected]) to receive an invoice and Paypal details.
---
Financial Assistance
We endeavor to make Shambhala programs accessible to people in all circumstances. We can offer options for overcoming financial obstacles, including payments plans that spread the cost over time.
Please contact David Edwards at [email protected] for more information about payment plans or financial assistance to attend the program.
Registration
After you have registered, we will contact you by email for more information about your meditation practice and any medical conditions which might affect your participation.
In the meantime, for queries regarding venue, transport, accommodation or the program, please contact David Edwards at [email protected]
Go to Melbourne's website