Program Details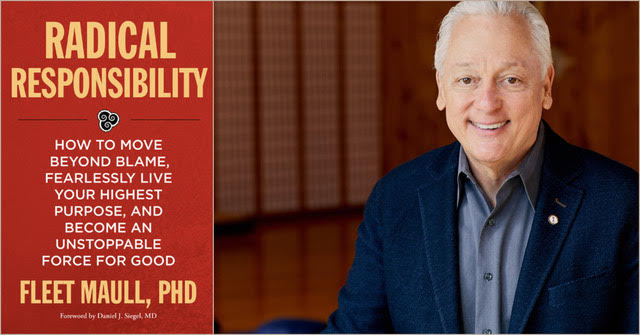 Exploring Radical Responsibility with Acharya Fleet Maull via Zoom

with Fleet Maull & Nealy Zimmermann
October 15 / 7:00 PM - October 15 / 9:00 PM




Those who have registered and paid by an hour before class begins will receive a link to joint the video call via Zoom if they like




Radical Responsibility: How to Move Beyond Blame, Fearlessly Live Your Highest Purpose, and Become an Unstoppable Force for Good





What is the difference between genuine responsibility and the shame-based blaming that dominates our culture?




Join Acharya Fleet Maull via zoom for an introduction and exploration of his new book Radical Responsibility®. There will be plenty of time for questions. Further facilitated discussion will continue after his presentation.





For those interested in exploring further, we are offering a Radical Responsibility Study Group starting Monday, October 21st. For more information and to register, click

here

. This evening event is not a pre-requisite for the study group, however.





Here's a description of the book from Fleet's website:





"When we escape the belief that we are limited by our circumstances or others, we access the full power of our authentic selves, writes Maull. Through teachings, practices, and Maull's deep empathy for those in challenging life situations, this step-by-step book shows us how."




For a good introduction the the topic of Radical Responsibility, click

here

for an hour long interview with Acharya Maull at Shambhala Mountain Center.





Fleet Maull is an Acharya (highest teaching credential) in Shambhala, and a Roshi (Zen master) in the international Zen Peacemaker Order. In the 80's and 90's, Maull served 14 years in prison for drug trafficking. During that time, he embarked on a path of transformation and service that has helped tens of thousands from inmates to hospice patients to top-level business leaders. With Radical Responsibility, he invites us to experience for ourselves the life-changing journey from victim to co-creator.




---
Go to Boston's website