Program Details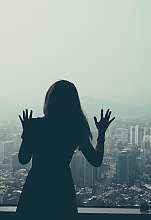 Eco-Anxiety, Radical Compassion and Self-Care

with Sandra Ladley
November 1 / 7:00 PM - November 1 / 9:00 PM



All are welcome





Description
If we stop and feel deeply into ourselves, we know that the current state of things is directly affecting us. We react and respond in different, changing and often painful ways to these challenging times. Now is a particularly potent time to recognize and draw on the wisdom that is already present in situations.




We are delighted to host our own Shastri Sandra on this Friday evening. Sandra and Community Advocates Team leader Emily Earlenbaugh will be leading an Intro to Karuna Training on Saturday November 2 which the Berkeley Center has been hosting since 2013.




Karuna is the Sanskrit word meaning compassion, and Karuna Training is a compassion and meditation-based program that teaches how to work with intense emotions, improve communication, and genuinely connect with others. It is a journey of personal transformation where we train in keeping our hearts open in the face of difficulty.




On Friday, Sandra will draw on the Shambhala Buddhist teachings and offer us a sneak peak of Karuna that will include guided meditation, talk and Q&A, and experiential interaction.




We hope to see you there!




The Saturday program
For more information and to register for the Saturday Karuna program, click here




About the teacher



Shastri Sandra Ladley is a long-time meditation practitioner and a senior Shambhala Buddhist resident teacher for the San Francisco Bay Area. She is the Program Director and a core faculty member for the Karuna Training program in Contemplative Psychology in North America. Sandra teaches Buddhist, Contemplative Psychology and Dharma Art programs internationally. She draws on experiences as a teacher, counselor, and manager in business, mental health, hospice, and creative arts settings to bring vibrancy, warmth and humor to her teaching.
Heart Gifts
It is customary to offer a monetary Heart Gift to the teacher. Acharyas receive no salary or benefits, and depend upon this income in order to teach for a living. This is completely voluntary according to your inspiration. There is no suggested amount–any amount is appreciated.
Generosity Policy
No one will be turned away for lack of funds. For those who can pay the patron rate, funds will go towards ensuring everyone has access to the weekend. For more information please see our generosity policy.
Contact
For questions contact JoshuaRaen Thornberry: manager [at] berkeleyshambhala [dot] org
Registration
Please register and pay online in advance of the class to ensure your space and so that the coordinators know to expect you.
Go to Berkeley's website