Program Details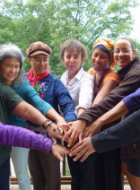 The Art of Connection: Building Healthy Community

with Vincent Dummer & Marian Broadus
October 21 / 7:30 PM - October 21 / 9:00 PM


THE ART OF CONNECTION:
BUILDING HEALTHY COMMUNITY
Every other Monday evening beginning Oct. 7, 2019
Healthy and happy communities are deeply attuned to the diversity of those participating and seek to include each person fully. The development and maintenance of vibrant communities is based of skills that can be learned and embraced, creating both personal and group transformation. Awareness of how we speak and how we listen is the basis of such transformation.
In this group event, participants will learn the building blocks of creating healthy community in a gentle and open learning environment. In this way, the group itself becomes a laboratory for creating community.
Group members are not required to attend every session, and are encouraged to drop in when they are able.
The class is led by Drs. Judith Broadus and Vincent Dummer who are both practicing psychologists and established meditation instructors. Participants who are not comfortable with self-disclosure and experiential learning may be challenged by this group.
For further information, Vincent can be contacted at [email protected]
Go to Lexington's website