Program Details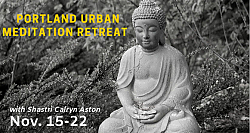 Weekthün: Portland Urban City Retreat

with Calryn Aston
November 15 / 6:30 PM - November 22 / 5:00 PM



Portland Urban Meditation Retreat




This program takes place at the Portland Shambhala Center. To register go to program listing on Portland Shambhala Center




The Portland Shambhala Meditation Center warmly invites you to explore your innate wisdom, stability, clarity, and strength during our City Meditation Retreat.




This retreat is open to everyone - both new and experienced meditators.




There are no prerequisites. Participants can commit to the full week or to the first 3 days with an option to extend to the full week.




The practice of deep retreat, even in an urban environment, offers us a unique opportunity to connect with ourselves, as well as with one another and our environment in a way that is becoming increasingly challenging in our busy world. During our time together, we will create an environment that supports each individual – as well as the group – to simplify and relax fully into deep meditation practice during the day and then return home in the evenings, gaining confidence to create the conditions for our mindfulness/awareness practice to expand beyond retreat and into our everyday lives.




Through the sitting meditation practice of shamatha, or calm-abiding, we put our busy minds in a cradle of lovingkindness that allows us to contact our inherent wakefulness. From that ground we will also engage in lovingkindness and compassion practices taught by the Buddha over 2500 years ago.




In addition to meditation, we will support the body with gentle yoga, designed to help us meditate comfortably, walking meditation and contemplative meal practice.
We will also support one another to deepen through the practices of functional talking and noble silence as well as periodically engaging in one-on-one and group conversations about meditation and how our meditation practice can be an integral building block for creating a wise, kind, and resilient society.




Everyone will share in ROTA–participation in maintaining and uplifting our practice environment. And we will be supported by the larger community of the Portland Shambhala Center whose members will offer our evening meals in a traditional gesture of support for practitioners who commit to deep retreat.





(This retreat meets the requirements for a weekthün for those participants who wish to fulfill that requirement.)





Registration - The 0.00 program fee includes lunch and dinner and a text. (Participants have breakfast before attending each day). Individuals may choose to sign up for the first 1-3 days – to get a feel for retreat and can opt to stay for the whole retreat if that suits them. The cost for this is .00/day.
It is traditional for students to offer a monetary gift to the teacher in appreciation for receiving the teachings, and in recognition of the years of training and understanding the teacher has cultivated. There will be an opportunity to offer a teaching gift at the program.




Lodging - For those wishing to attend from far away, the Center members will do our best to assist with lodging. If you will be requiring lodging, email us at: [email protected]




Generosity Policy - We offer program discounts to make our programs available to anyone who wants to participate. If the program price is an obstacle for you, please email [email protected] For this program, our
generosity policy may be applied down to 50 percent (0) because of the costs of transportation and housing of a visiting teacher, providing a week-long program and texts, lunch and dinner, as well as other costs.




* We cannot accept Generosity Policy registrations at the door, so please make arrangements in advance.




What is the Patron Price? Those who are able to offer more than the regular program price can select the patron price option. By selecting this option, your generosity is helping cover the costs of those who may not be able to pay the full price of the program.




For questions about any of the information above, please do not hesitate to contact Misha Drlikova at [email protected].




For those who are meeting requirements for other Shambhala programs: Participation in the entire week counts toward one week of dathün and fulfills a portion of group practice requirements for Enlightened Society Assembly and Shambhala Guide Training. You do not need to plan to attend these programs to join the retreat.




Our Director: Shastri Calryn Aston
Calryn Aston (Boulder) has been a student of Sakyong Mipham Rinpoche since 1997 and has been teaching since 2003. She has served as a director and a meditation instructor for many regional and international Shambhala programs and classes. She is the mother of two adult sons and works as a journalist and resilience coach. She is currently working with regional and
international groups to integrate mindfulness practice in disaster response and resilience trainings.





This program takes place at the Portland Shambhala Center. To register go to program listing on Portland Shambhala website.
Go to Seattle's website