Program Details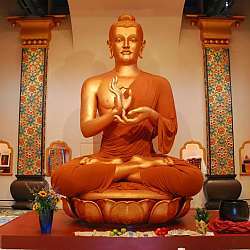 The View and Practice of the Hinayana and Mahayana

with Larry Higgins
January 11 / 9:00 AM - January 11 / 5:00 PM



This one-day class is intended for students interested in exploring the Hinayana and Mahayana teachings and is open to anyone interested in studying the material.




The hinayana path is the foundation of the Buddhist teachings. Based on training in mindfulness and awareness and in cultivating a deeper understanding of one's own mind, the hinayana is what allows us to take delight in our everyday life just as it is.




Once the essential foundation of the hinayana teachings has been laid, having trained and seen the benefits of looking within, the student begins to shift their focus outward to the broader world. This personal paradigm shift is the gate to the mahayana teachings, beginning with shunyata, the essential emptiness of all phenomena, and with the compassion that naturally arises from that understanding.




This class is appropriate for students at all levels. If you are considering taking the Refuge or Bodhisattva vow, you are especially encouraged to attend.




Shastri Larry Higgins became involved with Shambhala in April, 1987. He has been a psychotherapist for 32+ years and has four grandchildren. Larry has served as Director of the Austin Shambhala Center as well as Co-director of Shambhala Training and Head of Vajrayana Education. In 2010, he was appointed as Shastri (senior teacher and holder of the Practice and Education teaching seat) for Austin, Texas.
Go to Austin's website