Program Details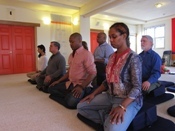 Winter Retreat

with Shelley Heinz
January 5 / 7:30 AM - January 11 / 6:00 PM



Winter Retreat 2020




It is a crisp, clear day on Vulture Peak mountain. The blue sky goes on forever and the wind is blowing. The Buddha is present, and the Heart Attack Sutra begins!




Winter can be a time for reflection and growth, listening to your heart and tuning into the spiritual aspects of life. Join us for deep practice, interesting discussions, and intriguing insights into one of the oldest, pithy Dharma teachings of the Buddha—The Heart Sutra.




Dates—January 5-11, 2019




Daily schedule: 7:30 am-6:00 pm. (This will allow for family time in the evening)




Partial attendance is available for consecutive days beginning January 5.




Cost: 5 , Patron price 5, Partial attendance per day




Included: Breakfast, oryoki lunch, and tea break. Group and individual meditation instruction.




Note: Some advanced programs have a weekthun as a pre-requisite and this will fill that requirement.




For more information contact:




Shelly Heinz (859) 576-3453




Lucia Gilchrist (859) 338-8519




Housing options:





Ziji House: rooms available on a first-come first-served basis. Dorm space for up to 4 people: /night or by donation Single room /night or by donation (two available)


AirBnB next to the center, /night - double bed could be shared. (You may contact the owner through his AirBnB page abnb.me/Fir8AxVWpw and ask about a Shambhala discount)


Other AirBnB locations are available nearby, please check for availability.


Go to Lexington's website