Program Details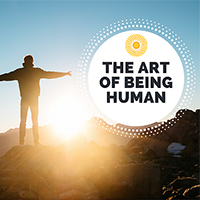 Shambhala Training Level I: The Art of Being Human

with Kim Kelso
January 17 / 6:30 PM - January 19 / 4:00 PM



The Art of Being Human: Shambhala Training Level I, is the first of the five levels of the highly acclaimed Heart of Warriorship training curriculum, an extensive path of training rooted in the ancient meditation practices and wisdom teachings of the Shambhala tradition, which were created for the challenges of modern, everyday existence.




This intimate urban retreat provides instruction for sitting and walking meditation as a means to develop mindfulness and awareness. The basic view is that we are fundamentally awake and good and through the practice of sitting and walking meditation, we will remember our natural confidence and relax to the freshness of the present moment and all that moment may bring. This retreat is designed for those looking to:






learn mindfulness meditation




explore the Shambhala path




deepen an existing mindfulness-awareness meditation practice



With the guidance of a senior Shambhala teacher and a group of experienced meditation instructors, you will discover that awakening is not about escaping from the world we live in, but is about bringing a mindset of wakefulness to every aspect of our lives: work, play, relationships, and more. It all begins with giving ourselves the opportunity to reconnect with our true human existence—the experience of our five senses, the feeling of emotions in our body, and yes, even the awareness of thoughts across our minds.
Teachings on awake living will be incorporated into meditation instruction and informative talks. You will leave with the tools you need to bring a mindfulness meditation practice into your daily life.
Shambhala Training Level I includes:



Guided meditation practice




Mindfulness meditation talks by a senior teacher




Group discussions




Optional one-on-one meditation instruction




Mindfulness movement exercises




Contemplative art demonstrations



The Friday night talk is free and open to the public, and can be attended without registration.
Shastri Kim Kelso

Kim began studying and practicing meditation in the Shambhala Buddhist tradition in 1980 and began teaching in 1992. She has been a member of the Nelson, Vancouver and Victoria Shambhala Centers in British Columbia, Canada and served as a co-director of the Victoria Shambhala Center. In 2008, she retired from a career in social work and moved to Yarnell, Arizona to care for her mother, Barbara, who is still with us at 100 years old. Kim is currently a member of the Phoenix Shambhala Center. In March 2015 she was appointed by Sakyong Mipham Rinpoche to be a mentor and senior teacher in the Shambhala tradition (a Shastri) for Phoenix and Tucson.
In keeping with Shambhala's enlightened society values, Kim and her mother started "Recycling in Yarnell" as well as starting up and leading the Yarnell Community Garden Project. She also leads a thriving weekly Yarnell meditation group.
If you have any questions about the program, please email Practice and Education at [email protected]
Go to Tucson's website