Program Details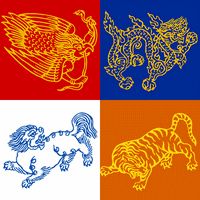 Meek

with John Seex
March 21 / 10:00 AM - March 22 / 6:00 PM



N.B. There are pre requisites for this programme. If you are unsure if you are eligible, please contact Irene Cleghorn.




"Since the warrior's mind is great and vast
He sees even farther than the sky"




Meek is the first of the four dignities, aspects of enlightened mind. Ordinarily we think meek expresses a lack of power or being intimidated, but in Shambhala meek is the ground of all. It is embracing and feeling out totality. We are not just trying to fix one problem or survive we are relating to the total situation as it is now and across time, thus our mind is vaster than the sky. We are relating to the world as it is, as the guide for what to do next. We live in a time when these teachings are more important than ever: we can either react to our world and others with aggression or we can appreciate the situation, have a bigger view and respond with compassion. In this w/e we will explore how Meek is an enlightened approach to everything we do.




This is the third programme in the Sacred Path of the Warrior series and the beginning of a deeper exploration of the four dignities. At this point we ourselves are learning to manifest as warriors and once again we will be both staff and participants during the weekend.




The programme will be taught by Shastri John Seex. John lives with his wife, Sophie and 2 children in Chalford Hill, near Stroud. He leads and runs the Stroud Shambhala group. John is a psychotherapist and supervisor. He teaches Karuna training and has organised and run children's camp in Dechen Choling with Sophie.




The cost of the programme is full price £110. Early bird if received in our account by no later than 29th February 2020 is £95. For payment details and further information, please register.




Tea coffee and refreshments are available. Please provide your own lunch. There are several places locally that can provide lunch if you prefer to eat out or you can eat in the centre.



Go to Bristol's website