Program Details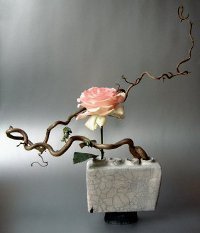 Ikebana Class

with Iris Ramos
February 22 / 8:30 AM - February 22 / 12:30 PM


Ikebana is the contemplative practice of expressing gentleness and elegance through the art of simple flower arrangement. The word 'Ikebana' literally means "give life to flowers." This art form began in 11th century Japan when flowers were presented in shrines and temples, and has become a contemporary expression of the profound sacredness in the world. Much more than just arranging flowers, this practice mirrors the sacredness in the mind of the arranger, both in the arrangement and in the experience of the observer. Through this art form, the artist learns to train his or her perceptions to open to the harmony and natural order of the world.

In this small class setting, students will be provided with hands-on ikebana instruction. Flowers will be provided for arranging, but students are encouraged to provide their own. Tools and ikebana vases will also be provided for use during the class if students are unable to secure their own. Students are encouraged to bring their own flower cutting scissors, a flat- bottomed dish that holds at least one inch of water, and a kenzan or metal "frog" pin cushion that fits the dish size. The class size will be limited to 8 students; a waiting list will be created if needed.
Students at all levels are warmly welcome!

Price: , which must be paid in full online when registering to complete the registration process. Refunds will be given up to a week prior to class.
If price is an obstacle for you, please inquire about our Generosity Policy.
Go to Austin's website