Program Details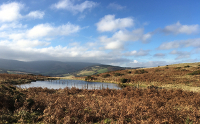 Bleddfa Online Shamatha Retreat: Bravery and Compassion

with David Schneider & Peter Conradi & Diederik Prakke & James O'Neill
July 25 / 9:30 PM - July 31 / 8:00 PM



We will offer an alternative online retreat, open to all who wish to commit to practicing around 6 hours per day. Priority will go to those attending the whole week; drop-in participation only if agreed in advance. Regular one-on-one meditation interviews will be frequently available, ideally via Whatsapp or Facetime.











Each day we will offer three sessions, via Zoom. The first, 09.30 to 11am will be Practice-oriented. The second, 3.30 to 5pm will be Path-oriented. Both these could involve the use of breakout groups and/or dyads. The third and last, in the evening, would be a one hour social event chaired by a rota of participants. Participants would also of course be expected to sit by themselves as necessary.










The traditional Bleddfa retreat, which has run for ten years, was 9 days in length but Day One was Arrival, Day 9 was Take-down, and Day 8 had the Party. To those wishing to join us, we offer one week = Saturday July 25– Friday 31, inclusive.





Please feel free to express interest as soon as possible to [email protected]. The retreat is open both to experienced meditators and to newcomers. We would be grateful if you can tell us what your meditation experience has been, and also what you are looking for from this retreat. After you have done this, you will be welcome to settle the suggested fee for the whole week of £100 per person, (there is a daily rate of £30 for those who have agreed partial attendance in advance). Apologies - card payments are currently only available via Paypal. Concessions are available upon request.
It would help us if pre-payment could occur before July 20, following which we will share the zoom-link. We would like any profit from the retreat to support the London Shambhala Centre in this time of acute financial stress, so those who wish to give more will of course be very welcome indeed to do so.
Go to London's website