Program Details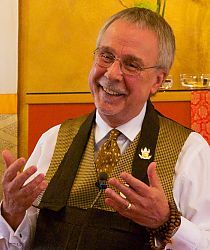 Cosmic Transitions and Personal Challenge

with Moh Hardin
February 6 / 7:00 PM - February 6 / 9:00 PM



Human consciousness is going through a "cosmic" transition, one that is much needed if we are to survive. Fundamentally, this is a transition from fixed ideas to openness, from self-centeredness to greater awareness, from an imbalance between masculine and feminine energies towards balance.




This is good, but when our inherited assumptions and projections no longer work it causes tension, confusion, and groundlessness. This is challenging to individuals, relationships, and communities.




How can we ride these challenges and "be the change we would like to see?" In this talk and discussion, we will explore some of the sane and helpful advice about opening to greater awareness offered by the Buddhist teachings.




About the teacher: Moh Hardin is an acharya, or senior teacher, in the Shambhala Buddhist lineage. The son of a Methodist minister, he graduated from Duke University with a BA in music.




After helping establish the Berkeley Dharmadhatu, Moh served there as education coordinator until he was invited in 1979 to work in the Karme Choling practice and study department. Moh served as Director of the Halifax Shambhala Centre from 1991 to 2001. Currently he serves as Regional Acharya for the Atlantic Provinces of Nova Scotia, New Brunswick, Prince Edward Island and Newfoundland, and the states of Texas, Oklahoma and Louisiana. He visits the Shambhala Centers in these regions regularly, teaching and working with students.



Go to Austin's website