Program Details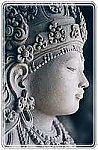 Refuge Vow Ceremony

with Dan Hessey
February 16 / 6:30 PM - February 16 / 7:30 PM






The Refuge Vow is the traditional step of formally becoming a Buddhist by taking "refuge" in the Buddha, the Dharma and the Sangha.








Taking Refuge in the Buddha, the Dharma and the Sangha (also known as the Precious Three Jewels), is a ceremony where one formally becomes a Buddhist. By taking refuge, we commit ourselves to freedom. Having exhausted our strategies of distraction, denial, and escapism, we find that learning to experience reality directly through the path of meditation is a life-affirming choice. Taking the Refuge Vow is making a formal commitment to follow the path of the Buddha in one's life—becoming a Buddhist.





Prerequisite
Participant must have a regular sitting practice for at least six months prior to taking vows and be an active member in local center with an ongoing relationship with a meditation instructor.




Participant Preparation





Obtain a letter of approval from their meditation instructor (required). Please contact us at [email protected] for more information.


Study TheRefuge Vow Sourcebook and The Vow, which contains suggested readings and are available at our center for purchase.



If possible, attend the Three Jewels class Sat. Jan 18th 9am - noon and Sat. Jan. 25th 9am - noon.






Prior to the ceremony, an interview with Acharya Hessey is required. The interview will take approximately 15 minutes. The following are the opportunities for interviews; please indicate on your application form which of these interviews you would like to select.



Friday, Feb. 14th 1:30 pm - 5:30 pm

The Ceremony
This ceremony is open to all and will be followed by a celebration!

Particpants, friends, and families should arrive by 6:30 pm on Monday before the vow ceremonies. The refuge ceremony (that is open to everyone) will start at about 6:45pm.
As is traditional, please consider offering a heart gift (amount is up to you) to Acharya Hessey at the interview or ceremony.
Go to St. Petersburg's website