Program Details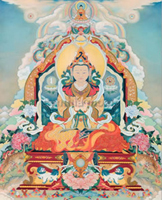 Reconnection Day for Rigden Graduates - Postponed

with Adam Lobel
April 4 / 9:00 AM - April 4 / 4:00 PM






This program is being postponed for the time being, until we can all gather together at the Center again.




Dear Fellow Graduates of the Rigden Weekend,




After the pain and confusion of the past two years in Shambhala, we would like to invite all previous Rigden graduates to gather together again here in Pittsburgh and reconnect. There are at least three aspirations:





To check in together and see how everyone is doing and if there are questions, concerns, and inspirations that we might address together.


To offer open and honest discussion about our Shambhala Vow. Would some of us like to offer our vows back in a dignified way? What does it mean to remain connected with the vow of basic goodness after the revelations of sexual abuse and harm in the Shambhala community? How can we support each other in exploring such questions?


To review and refresh some of the main teachings (TLGD) and practices (Windhorse) so that we can remain connected.


Our initial vision of the day is to have the Morning devoted to short practice, communal discussion, and for those who choose, a dignified ceremony for those who would like to offer back their Shambhala Vow, with a sense of support from the whole community.
This will take place Saturday, April 4th from 9:00-4:00.
You are welcome to come just for the morning if you would like.
We will eat together. Please bring a bag lunch -- or to order from Chipotle.
After lunch, Adam will then review teachings and practices, especially Windhorse, in the afternoon.
Please let us know as soon as possible if you would like to attend. Also, if you have any needs and ideas for this day in the spirit of what we have suggested above please email Stephanie at [email protected]. It will be a free/donation only gathering.
On behalf of the Interim Practice and Education team,
Stephanie and Adam
Go to Pittsburgh's website