Program Details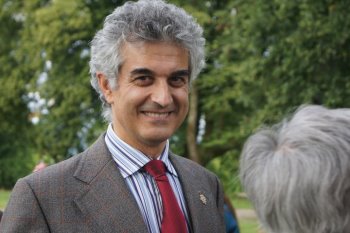 Sunday Gathering - Speaking From The Heart (In Spanish with English interpretation)

with Alfonso Taboada
September 6 / 3:00 PM - September 6 / 4:00 PM



This gathering will have simultaneous interpretation from Spanish to English available.




Los seres humanos necesitamos y anhelamos conectar con los demás desde que nacemos. Compartir nuestro corazón y sentirnos escuchados en profundidad es esencial para nuestro crecimiento y nuestra cordura. En esta reunión presentaremos ciertas pautas básicas que nos ayudan a hablar desde el corazón, y tendremos un espacio para practicarlas en grupos pequeños.




As human beings we need and long to connect with others since birth. Sharing our heart and feeling deeply heard is essential for our growth and sanity. In this gathering a technique will be offered to learn some basic guidelines to help us speak from the heart, and we will have some space to practice it in small groups.




About the teacher
Alfonso nació en Madrid, de padres gallegos emigrantes, a comienzos de los sesenta. Cuando tenía poco más de veinte años un vecino suyo, practicante de zen, le prestó La vida de Milarepa, cuya lectura le conmovió hasta el punto de empezar la práctica de meditación zen. En 1986, tras acabar sus estudios en Matemáticas Fundamentales en la Universidad Complutense de Madrid, se mudó a San Francisco. Vivía muy cerca del centro de Shambhala, y pronto cambió la práctica de zazen por las de Shambhala. Alfonso participó en el antiguo Seminario Vajradathu en 1990, de tres meses, donde se hizo instructor de meditación y conoció a su maestro Sakyong Mipham Rimpoche. Ya de vuelta en España, en 1991, organizó el primer nivel de Shambhala que se había enseñado nunca, y dio comienzo a un grupo de estudio que hoy es ya un Centro de Shambhala. Ha enseñado el dharma de Shambhala por más de veinticinco años y, en este tiempo, traducido varios libros de dharma al castellano, incluyendo Sol del Gran Este, Buda en la palma de la mano, Empieza donde estás, No hay tiempo que perder, Convertir la mente en nuestra aliada y Gobierna tu vida. Hoy en día compagina su dedicación a Shambhala con el trabajo como profesor de matemáticas en dos universidades americanas en Madrid, mientras cuida de una familia que incluye cuatro hijos y sirve en el mandala de Shambhala enseñando y guiando a estudiantes de todos los niveles.




Alfonso was born in Madrid, from Galician parents who emigrated there, at the beginning of the sixties'. In his early twenties, a neighbor who was a Zen practitioner lend him The Life of Milarepa, and he was deeply impressed and moved reading it and soon started practicing Zen. In 1986, after finishing studies in Pure Mathematics in Complutense University of Madrid, he moved to San Francisco. He was living very near the Shambhala Center and soon changed zazen practice for Shambhala practices. Alfonso did the former 3-month Vajradathu Seminary in 1990, when he became meditation instructor and met his teacher Sakyong Mipham Rimpoche. Back in Spain, in 1991, he organized the first Shambhala level ever and a small study group started in Madrid, today a full Shambhala Center. He has been teaching the Shambhala dharma for over twenty-five years and, during this time, has translated several dharma books into Spanish, including Great Eastern Sun, Buddha in the Palm of Your Hand, Start Where You Are, No Time to Lose, Turning the Mind into an Ally, and Ruling your World. Today he continues teaching dharma and, at the same time, mathematics in Madrid in two American Universities, while taking care of a family that includes four children and serving the Shambhala mandala teaching and guiding students at many levels.






ABOUT SUNDAY GATHERINGS

Please join us every Sunday for an online gathering of the Shambhala community worldwide. This online space is a place where we can practice meditation together, hear dharma teachings from a featured guest teacher, learn more about the activities of incredible people in our sangha, engage in discussion – and connect with one another, our community, and our hearts.
Sunday Gatherings are produced by Shambhala Global Services and hosted by Shambhala Online.
Sunday Gatherings are presented in English and are live every week at:
North America: 12:00pm PST, 1:00pm MST, 2:00pm CST, 3:00pm EST/CLT, 4:00pm Atlantic/BRT, 8:00pm GMT
International: 9:00pm CET/SAST, 5:00pm +1 AEST, 7:00pm +1NZST
Join the mailing list
To receive ongoing reminders about Sunday Gatherings, click here to join the mailing list >>
Make A Donation
These events are offered free of charge to Shambhala members. Please consider making a donation to support the presenters and production staff that make Sunday Gatherings possible, please click here >>

REGISTRATION
Register below for each upcoming talk. A Zoom link will be sent to you after registration.
Price: This program is FREE of charge
Patron: .00
(The Patron rate helps us offer the generosity policy to those in need of discounts or scholarships)
Registration questions? Email [email protected]

Shambhala Online is self-supporting. Your generosity in making a donation so that we may continue to offer free programs is greatly appreciated!
Go to Shambhala Online's website