Program Details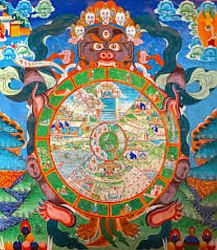 Foundations for Freedom - Course III The Wheel of Life, Karma, and the 12 Nidanas

with Judith Simmer-Brown & Loden Nyima
September 17 / 6:30 PM - October 29 / 8:00 PM






This is an online program using the ZOOM platform.




This course is third in a series of five courses exploring the profundity of the foundation teachings of the Buddha. It is open to all; prior courses in the series are not required as prerequisites.




This fall, 100 Mile House Shambhala is pleased to coninue the series that make up the year long program, Foundations for Freedom, currently being offerred by Shambhala Online. Each of the five courses, framed around the Four Noble Truths, feature pre-recorded talks by senior Shambhala teachers and locally facilitated discussions. Course materials and readings will be provided.




The foundational teachings of the Buddha indicate that the suffering we experience in our lives can cease if we recognize, deeply and profoundly, how that suffering has arisen. This requires gentle bravery and deep contemplation, bypassing simplistic notions of how our suffering has arisen. The Buddha provided powerful models for this contemplation through the interrelated teachings of karma and destructive emotions as exemplified in the Wheel of Life.




Class 1: Introduction to the Second Noble Truth and Mindfulness of Life




Class 2: Kunjung of Klesha and Karma




Class 3: Wheel of LIfe and the Six Realms




Class 4: Twelve Nidanas- Cause (1-2) and Result (3-7)




Class 5: Twelve Nidanas - Present Lifetime (8-10) and Future LIfetime (11-12)




Class 6: The long View: Karma, Lifetimes, and Cosmology.




Class 7: Live Q&A




More information regarding accessing the program online will be sent to registrants via email closer to the grogram's start date.




Questions? Please reach out to us at [email protected] or call 250-791-9240




Payment can be made by e-transfer to the email address above.




ABOUT THIS SERIES




This year-long program will provide a thorough and extensive exploration of the Hinayana path drawing on teachings from the Vidyadhara Chogyam Trungpa, Sakyong Mipham Rinpoche, other prominent teachers and classic sources. The emphasis will be on goodness, gentleness and bravery--allowing us to meet the mondern human conditions with warriorship and dignity.




The Four Noble Truths are used as an overall organizing principle with the Four Foundations of MIndfulness interwoven to provide a meditative method for embracing the totality of our basically good experience--including pain and suffering--as our practice and working basis.
Go to 100 Mile House's website