Program Details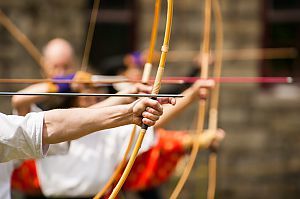 Shambhala Training Level II: Smile At Fear

with Deborah Zarate
December 13 / 9:30 AM - December 20 / 12:30 PM



Pre-requisite: Shambhala Training Level 1




The point of Shambhala Training is to get out of the cocoon, which is the shyness and aggression in which we have wrapped ourselves…A Shambhala warrior is someone who is brave enough not to give in to the aggression and contradictions that exist in society…who is able to step out of the cocoon--that very comfortable cocoon that he or she is trying to sleep in. -- Chögyam Trungpa Rinpoche




-----------------------------




SCHOLARSHIPS AVAILABLE!
The Shambhala Center of Milwaukee is offering scholarships to cover the full cost of the program for anyone who would like to take this course but needs financial help during this time of pandemic. Please email Napa at [email protected] to express your intention and request for scholarship.




PROGRAM DESCRIPTION




Being brave enough to not give in to the aggression and contradictions that exist in ourselves and society seems to be an important task these days. We all have fears, but when we look closely at them, we discover that behind each fear resides a basic fear of ourselves. We're afraid to look at our own habitual styles of thinking and behaving because we might not like what we see. It is this fear of honest self-reflection that keeps us trapped in a cocoon of habitual patterns of stress and aggression.




Shambhala Training Level II explores how we can move beyond this basic fear to discover our innate bravery by meeting ourselves as we are in the present moment. It builds on the foundation of basic goodness discovered in Shambhala Level I and through the gentle discipline of meditation explores how habitual ways of thinking and behaving, termed "cocoon" in Shambhala, obscure the raw brilliance of ourselves and the world we live. By opening to our own genuineness and tenderness, we learn to befriend our fear and cultivate the willingness to see our deep-seated habits and defenses.




With the guidance of a senior Shambhala teacher, you will learn a meditation practice that builds upon the mindfulness-awareness technique of Shambhala Training Level I. This program provides students with real techniques for working with fear and habitual patterns of thought and behavior.




Shambhala Training Level II includes:




• Guided meditation instruction




• Mindfulness meditation talks by a senior teacher




• Group discussions




• Optional one-on-one meditation instruction




• Mindfulness movement exercises




About Shambhala Training




Developed by Chogyam Trungpa in 1976, Shambhala Training is the structured path of study and practice of Shambhala warriorship—the tradition of human bravery and leadership. Shambhala Training offers teachings based the vision that every human being has a natural source of innate wakefulness that we can discover, cultivate and express in our life. This path shows how to take the challenges of daily life in our modern society as opportunities for waking up and engaging in our life.




Shambhala Training is organized into five weekend workshops that include meditation training and practice, talks by senior instructors, personal interviews and group discussions. Levels I-V provide a strong foundation in mindfulness-awareness meditation practice, emphasizing the development of genuineness, confidence, humour, and dignity within the complexity of daily life. The workshops are recommended for new and experienced meditators, as well as for those looking to enrich their existing spiritual path.




*ZOOM link will be sent the day before the program begins.



Go to Milwaukee's website