Program Details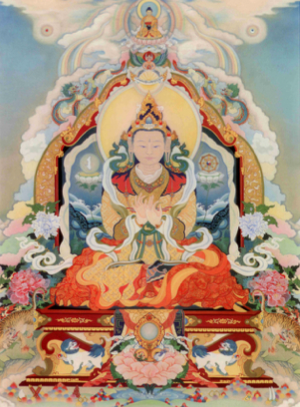 Ridgen - Unbedingte Zuversicht / Ridgen - Unconditional Confidence in Vienna

with Mathias Pongracz
February 26 / 7:00 PM - February 28 / 5:30 PM



/english description below)/




Der Rigden ist die Repräsentation unseres erleuchteten Wesens und zugleich Verkörperung bedingungslosen Mutes. Historisch gesehen, waren die Rigden erleuchtete Herrscher, die auf Grund ihrer tiefgehenden und unerschütterlichen Erfahrung der grundlegenden Gutheit die Fähigkeit besaßen, "ihre Welt zu lenken".

Die Zufriedenheit, Freude, Furchtlosigkeit und Weisheit des Shambhalawegs kulminieren in unbedingter Zuversicht. An diesem Wochenende werden der Shambhala-Tradition die Lehren über erleuchtete Führung (leadership) weitergegeben.
Angesichts der Probleme, denen die Menschheit heute gegenübersteht, wird es immer nötiger, einfache Wege zu finden, ein verantwortliches und starkes, auf Mitgefühl basierendes Führungsverhalten hervorzubringen.




Es wird die formelle Übermittlung der Praxis des Windpferdes stattfinden, und es gibt auch die Gelegenheit, das Shambhala Gelübde abzulegen.



Lehrer: Acharya Mathias Pongracz, Praktizierender in der Shambhalatradition seit 1983, Schüler von Chögyam Trungpa Rinpoche und Sakyong Mipham Rinpoche. Er praktizierte lange Zeit Zen mit Kobun Chino Roshi von 1992 bis 2002. Zur Zeit lebt er in Wien und lehrt europaweit in französisch, ungarisch, deutsch und englisch.

Mathias Pongracz arbeitete 20 Jahre als Fernsehjournalist als Korrespondent für Ost-Europa beim ORF. Er lehrt darüber hinaus auch Programme in "Mindfulness Stress reduction" und Qi-Gong.
Voraussetzung: Shambhalatraining Stufe 5 und der Kurs "Weisheit im Alltag" (oder andere Kurse)
Kosten: €160 (€130 Frühbucherpreis bei Einzahlung bis zum 10. Februar)
zusätzliche Materialkosten: circa €30
Wiederholende zahlen die Hälfte.
Info&Anm.: Grit Turnowsky ([email protected])
---
This program is the culmination of the Way of Shambhala and is a weekend that emphasizes genuine confidence and steadfastness in facing the worlds challenges.

The contentment, joy, fearlessness and wisdom of the Way of Shambhala culminates in unconditional confidence. This weekend workshop, led by Acharya Mathias Pongracz, a senior teacher in the Shambhala Buddhist tradition, introduces the teachings of enlightened leadership. With the great problems now facing human society, it seems increasingly important to find simple ways to bring compassionate and strong leadership to the world, even in small ways. This weekend emphasizes genuine confidence and steadfastness in facing the world's challenges.
Teacher: Acharya Mathias Pongracz, For 20 years he worked as television journalist for the Austrian Broadcasting Corporation (ORF) where he was formerly the East European Correspondent. Acharya Pongracz joined Shambhala in 1983 and attended seminary with Chögyam Trungpa Rinpoche in 1984 and again in 1985. When the Saykong (then Sawang) taught his first 3 month seminary at SMC in 1992 he asked Mathias Pongracz to serve on the Seminary teachers faculty. Mathias also studied closely with Kobun Chino Roshi, with whom he sat many sesshins from 1992 until his paranirvana in 2002. He also teaches programs on Mindfulness Stress reduction, and has practice in Qi Gong and the art of hosting.
Prerequisite: Level 5 of Shambhala Training and the course "Wisdom in Everyday life" (or other courses)
Costs: *Repeat participants pay half
€160 (€130 early bird until 01. of June)
plus Materials Fee approx €30
Info&Registration.: Grit Turnowsky ([email protected])
Go to Vienna's website