Program Details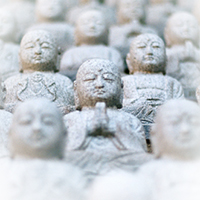 What Can We Rely On?

with Richard John
November 28 / 9:00 AM - November 29 / 4:15 PM



*** Full program in person. Unlimited places on Zoom. ***




What Can We Rely On?




Advice from the Buddha and Atisha




One of the Buddha's most practical teachings is known as "The Four Reliances". This is his heart advice to students who need guidance about who and what to trust on their path: One or many teachers? The teachings themselves? One's own intuition? The Buddha's instructions are clear, simple and precise, and immensely helpful in times of chaos.




In the 8th century, the great Indian master Atisha created slogans by which practitioners could transform their emotional habits into the path of awakening. Now known as Lojong (mind training), these pragmatic slogans can interrupt our distractions and remind us of what is most urgent : the great mind of openness, and the heart of motivation to care for others.




The weekend will include talks, meditation instruction and practice, and small group conversations with senior meditation instructors.




Tea and coffee will be served between 8:30 and 9:00.




OPEN to anyone with some meditation experience




PROGRAM SUBJECT TO CONDITION : will occur only if pandemic circumstances allow for the acharya to travel to Montreal




REGISTRATION REQUIRED




Participants must be present for the entire program




Heart Gifts




It is customary to offer a monetary Heart Gift to the teacher. This is completely voluntary according to your inspiration, and there is no suggested amount – any amount is appreciated.




Acharya Richard John




An early student of Chogyam Trungpa Rinpoche, Richard was appointed acharya by Sakyong Mipham Rinpoche. He completed the first three-year group retreat at Gampo Abbey in Nova Scotia, and has for many years taught Shambhala Buddhist programs in the US, Canada and Mexico.




Please consult our COVID measures prior to visiting the Centre.
Go to Montreal's website