Program Details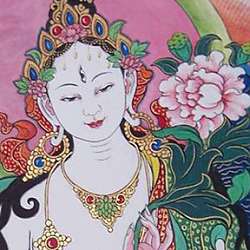 White Tara Compassion Practice

with Jackie Muse
November 26 / 12:00 PM - November 26 / 1:00 PM


White Tara
Compassion Practice
every Thursday from noon to 1pm
Please join us for the healing, soothing practice of White Tara.
Emanated from the tears of the compassionate Avalokitshvara, peaceful White Tara is said to witness the suffering of beings through her seven eyes. She soothes their fear, calms their anguish, and heals their sufferring. This is a lineage practice particularly relied upon in times of domestic and community turmoil and disharmony, or in the midst of attacks on health and longevity.
This practice is open to all. The text will be shared on the screen for all to follow.
Go to Atlanta's website