Program Details
Mudra Presentation & Practice Series, Talks 3-5

with Craig Warren Smith & Suzann Duquette
February 6 / 12:00 AM - February 20 / 12:00 AM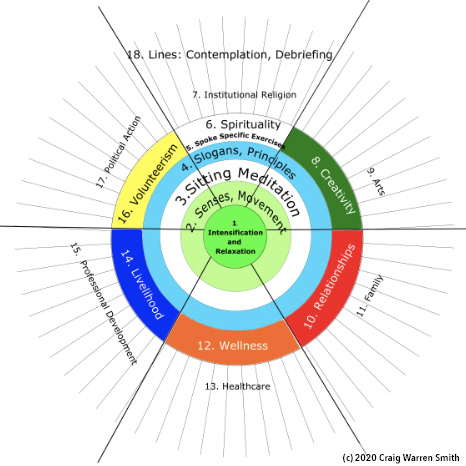 Talks 3 - 5: Mudra Speak, The Six Spokes, Leadership

Talks 3 - 5 must be taken as a package:

Talk 3, Feb. 6 | Talk 4, Feb. 13. | Talk 5, Feb. 20

Time: 9-11 a.m.

Price: 0 ( per Talk)

About the series

The Mudra Journey: Lifestyle transformation in the new normal of COVID

In this five-week class series, 50 years after Chögyam Trungpa first presented Mudra Space Awareness, it will be presented for the first time as a complete upaya — a 24/7 practice designed especially for the moment we are in today. No longer confined to theater training, this practice, succinctly presented in the above diagram, is designed to promote leadership in the moment of groundlessness that arises in the wake of COVID.

Presentation and Practice

Each session in the series has two parts, a framework presentation offered by Professor Craig Warren Smith and mind/body and perception exercises, Mudra practice, led by Acharya Suzann Duquette and supported by other Mudra teachers. Exercises will relate to the theme of each of the presentations.

"Chaos should be regarded as extremely good news ...Chaos is the great space of emptiness that occurs before genesis. ... This space provides an opportunity to reconnect with what lies under the chaos and negativity — inherent awakened nature. Another way chaos is good news is that when things seem very bad, there is a big opportunity for something good to take place." — Chögyam Trungpa Rinpoche

About Talk 3: Mudraspeak

Trungpa Rinpoche explained that Mudra involves a new way of using language that describes and evokes nondual experience in which the filters dividing self and other are removed. The class will show that Mudra entails a new approach to contemplation, a new way of using speech, and a new style of communication. The class also will introduce Mudra Slogans that evoke nondual perception and transformational action.

About Talk 4: The Six Spokes

Applications of Mudra are in six separate domains that are unpacked in this class, as indicated in the Mudra mandala. This class shows how Mudra can optimize 1) spiritual practice, 2) one's creative life, 3) relationships, 4) wellness, 5) livelihood, 6) and social action. Combining all of them, Mudra can act as a catalyst for resetting their interaction in ways that correspond to this time of groundlessness.

About Talk 5: Leadership

What can Mudra-inspired leadership look like this in digitalized post Covid time? How can it change total systems? How can leadership evolve from the bottom up. Can Mudra-trained leaders transform systems from the bottom up? Can we find and engage the "closet Shambhalians" in positions of power in the style of Ashoka? How can leaders optimize the interaction between digital (virtual) and analog (physical governance)? How does Mudra create enlightened society?

Schedule

The online Zoom room for this presentation and practice session will open at 8:45 a.m. on Saturday, Jan 23, for you to sign-in, check your connection, and do any necessary trouble-shooting of technical issues. The program begins at 9 a.m. with a talk, followed by Mudra practice. The program ends around 11 a.m. All times are Eastern time zone.

Other Talks in this Series


Registration Deadline

Because of the nature and logistics of online programming — including ensuring that you have the proper links, materials and schedules — the deadline to register and be paid in full for this program is 48 hours before it begins. The price below includes a per person per class teaching gift for Dr. Smith, who is responsible for holding and developing the full scope of the Mudra Institute. [ total]



Please note that some of the automated text regarding pricing lists the inclusion of accommodations and/or meals. This is not applicable to ONLINE classes


Go to Karme Choling's website