Program Details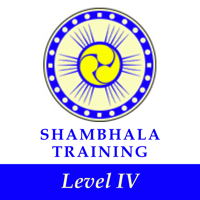 Awakened Heart (Shambhala Training Level IV)

with Iris Ramos
April 10 / 9:00 AM - April 24 / 1:00 PM



In Level 4 Shambhala Training, we learn to awaken and open our hearts so we can communicate fully with the world. Rather than using our experiences as an occasion to re-generate habitual patterns, we can use them as reminders to further wake up. When we allow ourselves to meet the world without hope and fear we find resources of steadiness and energy.

Shambhala Training is a path of meditation emphasizing the development of genuine confidence. Each level includes meditation training and practice, talks by a senior teacher, individual meetings with a meditation instructor, and group discussions.

Prerequisite: Level III Shambhala Training.

Zoom Access: This course will be offered online via Zoom at the dates and times listed above. After you register for the course, we will send you instructions for joining the course meetings.

Time Zones: Please note, times listed are in Arizona time. Arizona does not observe Daylight Savings Time, so please adjust accordingly if you are joining us from outside Arizona.

Pricing Information and Generosity Policy:

We are committed to making our programs and classes accessible to everyone, and we will not turn anyone away due to financial concerns. If the Program Price is an obstacle for you, please decide what works for you and offer what you are able to pay. You do not need to apply for the Generosity Policy in advance, but if you have questions, please contact us.

Those who are able to offer more than the regular program price can select the Patron Price option. By selecting this option, your generosity is helping to cover the costs of those who may not be able to pay the full price of the program. Thank you for your consideration, and for helping all to receive the treasure of the Shambhala Dharma.

If you have already taken Level IV, you are welcome to repeat the course for a reduced price of .
Go to Phoenix's website