Program Details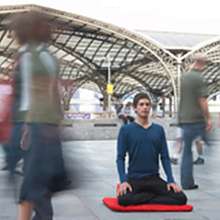 Warrior In The World: Shambhala Training Level III

with Joanne Martin Braun & Jesse Miller
June 19 / 10:00 AM - June 26 / 5:00 PM



Level III - Warrior In The World




Shambhala Training Level III provides meditation practice and teachings that builds upon the mindfulness-awareness technique of Shambhala Training Level II to further awaken the mind and heart. With gentle fearlessness, these teachings help us to step beyond our conditioning and open to the freshness of each new moment. This Level will be taught on two consecutive Saturdays, in order to give us the opportunity to take the "Warrior in the World" practices into our daily lives.




In this third in the series of Shambhala Training, the boundaries between us in here and the world out there become more permeable. Our natural curiosity takes us deeper as our hearts open and we learn to let more of the world in, allowing ourselves to be touched without closing down out of fear. We start to see that who we are and what the world is are not as separate as we might have assumed. We continue to discover our inherent confidence, patience, and generosity.




Trusting further in basic goodness and daring to experience the sharp edge of reality, we move forward with gentleness, increased awareness, and inquisitiveness about the world, as it is. We find that we can extend ourselves to others fully and with kindness. We learn that we can apply our practice to whatever arises, developing more confidence in all aspects of our world.




About the Teachers
Shastri Joanne Martin Braun is a Senior Teacher, or Shastri, in the Shambhala Buddhist Tradition. Joanne is known for her friendly clarity and loving honest teaching style. Joanne has worked as the Regional Director for Northern California Shambhala. She lives here in Sonoma with her good humored spouse of many years Lou.




Jesse Miller, a student of Chögyam Trungpa Rinpoche and Sakyong Mipham Rinpoche for over 40 years, is a Senior Teacher in the Shambhala Buddhist Tradition. Jesse and Ani Pema Chödrön are old friends who have worked together on several large programs. Jesse is known for his welcoming manner and big heart. Jesse lives with his wife Evelyn in the Bay Area.




Prerequisites
The Art of Being Human: Shambhala Training Level I
Birth of the Warrior: Shambhala Training Level II




Price
0 Program Price
0 Patron Price
Repeaters and limited income.
Or pay what you can afford. Write in the amount.




Special Note
This program will be offered on the Zoom platform. Register in advance to be sure that you receive the link.




Alternately, if pandemic restriction ease and this program can be offered in person, we shall do so.
Go to Sonoma's website