Program Details
Hybrid: Four-Dharmas Weekthun

with Richard John
April 15 / 12:00 AM - April 22 / 12:00 AM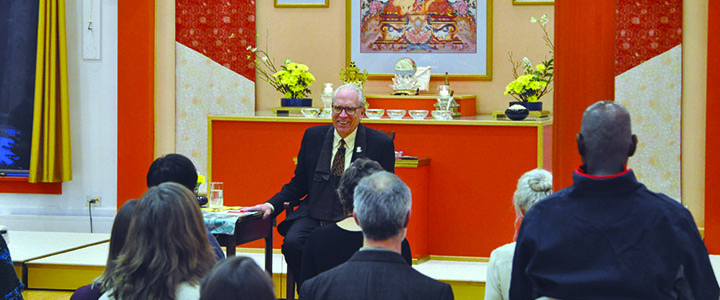 Four Dharmas, Four Foundations, Four Dignities

The first meditation practices taught by the Buddha were the Four Foundations of Mindfulness. The view of the dynamic unfolding of the path is known as the Four Dharmas of Gampopa. The Shambhala stages of attainment, as well as the application in daily life, are the Four Dignities.

These teachings are beautifully aligned, and we will apply them in this four-day meditation retreat. Beginning each morning with the Four Dharmas, each day will include teachings on one dignity, and pith instructions for the corresponding meditation. Acharya John has taught many dathuns (four-week retreats) using this format, with one dignity and foundation for each week. Here we will condense it into four days.

Heart Gifts

It is customary to offer a monetary Heart Gift to the teacher. Acharyas receive no salary or benefits, and depend upon this income in order to teach for a living. This is completely voluntary according

Schedule

The Zoom room will open by 7:15 p.m. Eastern Time, on Apirl 15, 2022. Please arrive early to check your connection and let us help troubleshoot any technical difficulties. For the rest of the retreat, the program and ends about 5:30 p.m. Eastern, with breaks throughout the day. The program ends by 5:30 p.m. Eastern, on April 22.
If you are participating in person, please plan to arrive between 3 and 6 p.m., on Friday, April 15. in order to register and settle in for the program. Dinner is served at 6:30 p.m. There will be a brief orientation at 7 p.m. for all on-land participants.
Please check our current COVID protocols
regarding on-land participation.

Registration Deadline

Because of the nature and logistics of online programming — including ensuring that you have the proper links, materials and schedules — the deadline to register for this program is 48 hours before it begins.

This program is available both On-Land and ONLINE. Participants who join the program in person, will pay an additional on-land differential of 0. This covers all meals and general land use at KCL. It does not cover accommodations.
Go to Karme Choling's website