Program Details
Hybrid: Ashe Mahamudra Weekthun for Shambhala Vajryana Practitioners

with Richard John
April 22 / 12:00 AM - April 29 / 12:00 AM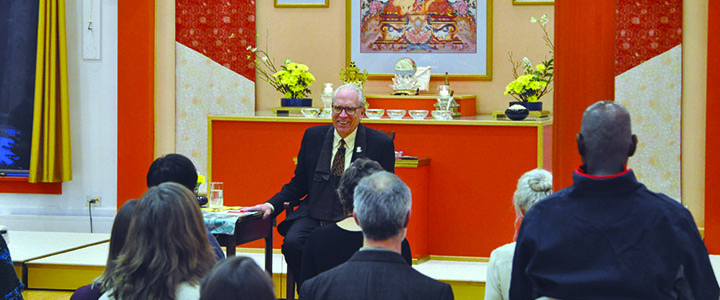 This vajrayana retreat will be structured according to the Ashe Mahamudra, a profound practice liturgy by Sakyong Mipham Rinpoche. The practice aligns the traditional investigation and pointing out instructions of mahamudra and trekcho with the wisdom of Ashe and the path of the Four Dignities.

Mahamudra, the Great Seal, is among the most profound streams of teaching and practice of Vajrayana Buddhism. Revered as a powerful support for all other tantric practices, it is also extremely simple and direct, focused on recognizing and gaining confidence in the nature of mind as pointed out by the guru, through direct experience.

This retreat is for Shambhala tantrikas — those who have attended either Sacred World Assembly or Vajrayana Seminary — at all levels of practice. All participants are requested to begin at the beginning and commit to the entire retreat. All Scorpion Seal practitioners will have the opportunity to do the special "morning practices" separately.

This will be the first Mahamudra Retreat led by Acharya Richard John at Karme Choling, since he initiated the "49-Day Mahamudra Retreat" in the spring of 1998.



Schedule

The Zoom room will open by 7:15 p.m. EST, on April 22, 2022. Please arrive early to check your connection and let us help troubleshoot any technical difficulties. During the rest of the program, the first session begins at 9 a.m. Eastern and ends about 5:30 p.m. Eastern, with breaks throughout the day. The program ends by 5:30 p.m. Eastern, on April 29, 2022.

If you are participating in person, please plan to arrive between 3 and 6pm, on Friday, April 22. in order to register and settle in for the program. Dinner is served at 6:30 p,m. There will be a brief orientation at 7 p.m. for all on-land participants. Please check our current COVID protocols regarding on-land participation.



Registration Deadline

Because of the nature and logistics of online programming — including ensuring that you have the proper links, materials and schedules — the deadline to register for this program is 48 hours before it begins.

This program is available both On-Land and ONLINE. Participants who join the program in person, will pay an additional on-land differential of 0. This covers all meals and general land use at KCL. It does not cover accommodations.

Please check our current COVID protocols regarding on-land participation. Note that you must be fully vaccinated to stay overnight at Karme Choling. Current COVID practices are available here: https://www.karmecholing.org/visiting-us/covid-policy
Go to Karme Choling's website