Program Details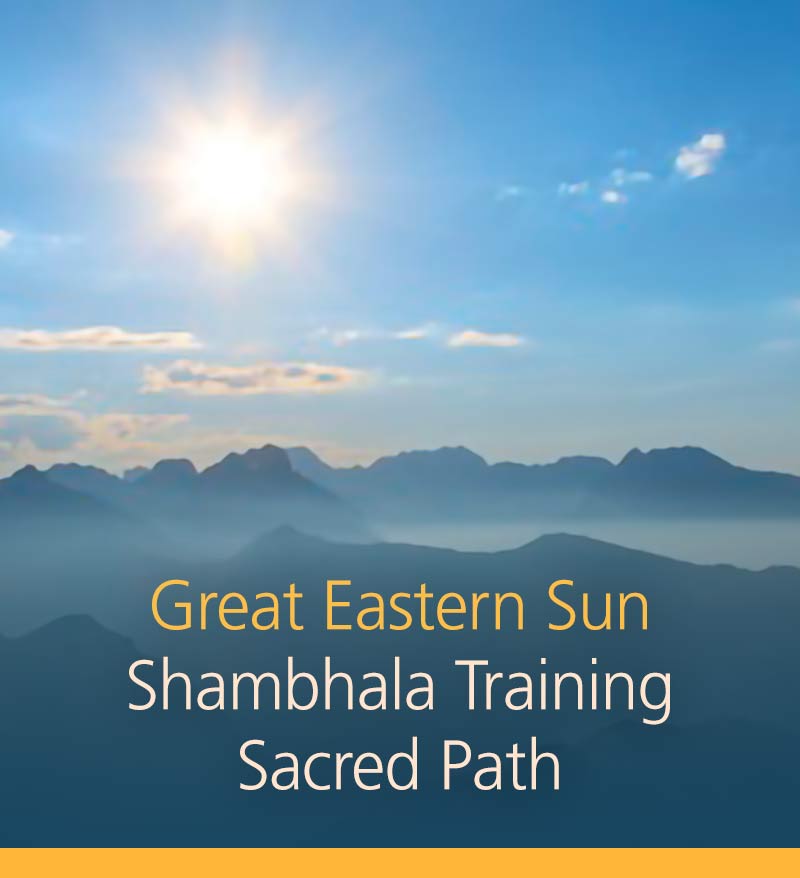 Great Eastern Sun

with Joanne Martin Braun & Jesse Miller
February 5 / 10:00 AM - February 6 / 5:00 PM






Prerequisite for this program: completion of Level V Shambhala Training



---
Great Eastern Sun marks the beginning of the Shambhala Training Sacred Path, which introduces advanced warriorship practices that extend the basic mindfulness-awareness meditation and principles of warriorship introduced in Way of Shambhala Weekends I-V.
The Sacred Path is a series of 7 weekends, which will be offered approximately every two months.
This program, offered online via Zoom provides training on how to see the Great Eastern Sun, the primordial energy and brilliance that is the basis of all that exists. In particular, it is designed to nurture the student's natural ability to experience the world as sacred and support his/ her/ their aspiration to be of help to others.
This level of training cultivates one's dignity and natural gifts that are able to widen one's sphere of compassionate and practical influence.
---
This weekend program is offered online via Zoom. Zoom meeting info will be provided to registrants in late January.
Prerequisite for this program: completion of Level V Shambhala Training
Questions? Please contact coordinator Christina Nelson at [email protected]
---
ABOUT ZOOM This program will be presented on the Zoom platform. It is available for computers, smart phones, and tablets. You will need to download the free app on your device before joining the session. Once it's loaded, click the link and follow the prompts to join the session.
Please join us at least 5-10 minutes in advance so that you're set up when the program begins. And, make certain that your mic is muted when you join to avoid background noises which are multiplied with many participants.
Go to Sonoma's website