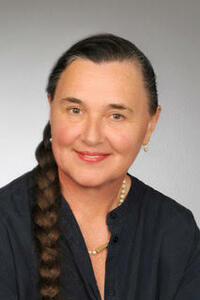 Sabine Rolf
Sabine Rolf is a senior teacher and has been practicing meditation and contemplation in the Kagyu and Nyingma Tibetan Buddhist lineages and the Shambhala lineage for more than 30 years. She teaches internationally about Buddhism, Shambhala, Contemplative Psychology, Maitri Space Awareness, and Mindful Communication. Sabine studied Philosophy and German Literature in Hamburg and works in leadership teams in Adult Education and Environmental Protection. She lives in the countryside in Germany.
Sabine's Courses
Wanneer de wereld ons aanraakt, opent dat ons hart. – Awakened Heart – De lezingen in dit programma zullen in het Engels gegeven worden. The talks will be given in English. Laat ons weten als je vertaling nodig hebt.
No Prerequisites
Die Zeit zwischen Weihnachten und Neujahr bietet sich an, um zusammen zu kommen und in die Tiefe zu gehen.
No Prerequisites
Discover or rediscover your connection to meditation - and to yourself. This course is a powerful way to reconnect with our minds and hearts, and to open up to ourselves and our experience in a way that is more connected, caring, and kind.
No Prerequisites
2023-09-30 02:07:03