Program Details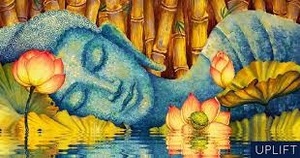 The Wisdom of the Heart Sutra in Turbulent Times

with Moh Hardin
February 16 / 8:30 AM - February 17 / 6:00 PM



In this weekend retreat, we will practice and explore how the wisdom expressed in
the Heart Sutra, one of Mahayana Buddhism's most important teachings, directly
applies as we experience current upheavals in our world and our Shambhala
community.

It's been said that it is always good to practice the Sutra of the Heart of Transcendent Knowledge, commonly called the Heart Sutra, but it is particularly potent in turbulent and confusing times. Great meditation masters have spent lifetimes understanding the meaning of emptiness expressed in this Sutra spoken by the bodhisattva of compassion Avalokiteshvara to Shariputra.

The Heart Sutra is certainly not saying 'it's all empty, so it doesn't matter.' Rather
this classic Sutra teaches how to uncover prajna, "a very clear, precise, and
intelligent state of being that has a sharp quality, the ability to penetrate and reveal
situations." Once revealed, then appropriate and compassionate action can arise.

This exploration of the Heart Sutra with Acharya Hardin in relation to current
events will be of interest to all meditation practitioners. These principles are
foundational to Shambhala Buddhism and all Mahayana Buddhist traditions.




Moh Hardin is an acharya, one of only 40 senior teachers in the world that Sakyong Mipham Rinpoche has empowered to represent him due of their knowledge, wisdom, and commitment to the Shambhala teachings.

The son of a Methodist minister, Acharya Hardin graduated from Duke University with a BA in music. He resides in Halifax, Nova Scotia and serves as Regional Acharya for the Southwest Regional Shambhala Centers and for the Atlantic Provinces of Nova Scotia, New Brunswick, Prince Edward Island and Newfoundland. He visits these centers each year, teaching and working with students. He is also the author of "A Little Book of Love."
Go to San Antonio's website