Program Details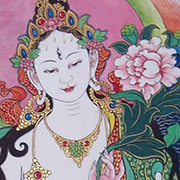 Fearless Female Warrior Series: White Tara

with Jil Amadio & Harald Dienes
March 23 / 10:00 AM - March 23 / 5:00 PM



White Tara is known in Tibet as "She Who Liberates"—a compassionate bodhisattva who delivers us from fear and protects us from harm. White Tara, is the female manifestation of Buddha's compassionate wisdom, sometimes called the Mother of all Buddhas, and represents the motherly aspect of compassion. It is said that her compassion for living beings is stronger than a mother's love for her children. She embodies the environmental qualities of kindness, protection from harm, and soothing of suffering.

This one day White Tara Retreat will help us connect to the energy of this swift and heroic bodhisattva who offers longevity so we may have more time to serve others in this world. It includes teachings on the practice, guided and silent meditation, as well as facilitated discussions. The retreat is suitable for those new to visualization practice as well as more experienced practitioners.




About Shastri Jil Amadio




Shastri (senior teacher) Jil Amadio, is a practitioner of mindfulness-based disciplines and has been offering mindfulness training since 1989. Known for her warm heart and keen insight, she provides mindfulness support for teachers and students alike, leading workshops in healthcare, education and business sectors. Trained in nonviolent communications, Jil works in communication, crisis and change management, and uses mindful communication to bridge group challenges. Jil has led cause-marketing initiatives like the MAC Aids Fund and Stop Violence Against Women campaigns. She has produced documentary films that shine a light on underserved communities. Appointed Shastri in 2016, she is inspired to support local leaders and foster regional unity. Jil loves to spend time with her teenage daughter, who regularly teaches her about humility.

About Harald Dienes




Harald has been a student of Trungpa Rinpoche and Sakyong Mipham Rinpoche for 40 years. During that time, he has been practicing and teaching the instructions of the Kagyü, Nyingma and Shambhala lineages that we have been entrusted to uphold by our teachers. Professionally, he is a licensed practitioner of Chinese medicine trained in the classical style. The last few years he has become more involved with community activism in a quest to learn what works and does not work in our society and how Shambhala vision may be able to contribute to the common good at a time of increasing social challenges.






Note: This White Tara practice day has no pre-requisites and is open to any practitioner. However, for home practice and to purchase the text, a lung (a reading transmission) is required. If you have taken refuge vows and would like to receive the lung, please contact Erin MacPherson [email protected] to be added to a list.

It is customary to offer a "heart gift" (a monetary donation) for the lung and for the teachings.




The next workshop in this series will be about Yeshe Tsogyal, known as the mother of Tibetan Buddhism.

Registration




Note: If you cannot afford to pay the full program fee, see our generosity policy.




Please register for this program in advance by clicking on the "Click here to register" link below. After filling out the online registration form, you will have the option of paying online through PayPal using your credit card or PayPal account. If you prefer not to pay online, you can pay by cash or cheque at the beginning of the program.



Go to Toronto's website